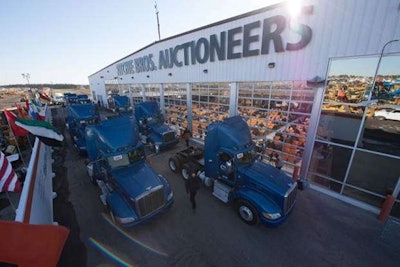 Hundreds of late-model, low-mileage trucks and trailers will be on sale in Las Vegas next month at Richie Bros.' first-ever transportation-only auction.
The one-day auction on Dec. 6 at Ritchie Bros.' auction site in Vegas will feature equipment from dozens of owners, including major fleets. Consignments are now being accepted for the event.
"Typically, our auctions feature equipment from a variety of sectors, but with this transportation-only event we are focusing our efforts to create a unique auction for one industry with trucks and trailers from owners across the United States," said Rob Giroux, senior vice president of sales for Ritchie Bros.
Equipment categories featured in the auction include truck tractors, heavy-haul trucks, reefer trailers and more. All items will be sold without minimum bids or reserve prices.
A list of equipment being sold at the auction can be found here.