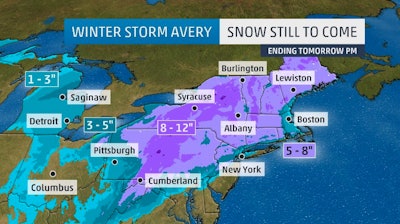 Here comes the snow! #pawx #njwx #nywx #vtwx #nhwx #mewx #ctwx #riwx #mawx pic.twitter.com/3k2cx5Hnn6

— Greg Postel (@GregPostel) November 15, 2018
The first significant winter storm of the season for the Eastern U.S. has prompted the Pennsylvania Turnpike Authority to reduce speeds from the Laurel Highlands through Central Pennsylvania and other highways in the state.
Speeds on the Turnpike are now reduced to 45 mph from the Donegal Interchange (exit 91) to the Valley Forge Interchange (exit 326). The 45 mph restriction is also in place for all of I-276, I-95 to the Delaware River Bridge, and all of I-476.
Portions of much of the East are under Winter Weather Advisories or Winter Storm Watches Thursday and into the weekend.
Forecasters are calling for rain, freezing rain and up to a foot of snow through Saturday for some areas from the Mississippi River through northern New England. The storm is expected to impact the Ohio Valley, Appalachians, and Mid-Atlantic during the day Thursday and the Northeast Thursday night, delivering as much as a foot of snow to the interiors of Pennsylvania and New York.
Meanwhile, another area of snow will spread over the northern Rockies and northern Plains Thursday night into Friday. The northern and central Rockies could see 6 to 10 inches of snow in higher elevations, and 2 to 4 inches of snow are expected from the Northern Plains into parts of the Upper and Middle Mississippi Valley by Saturday morning.