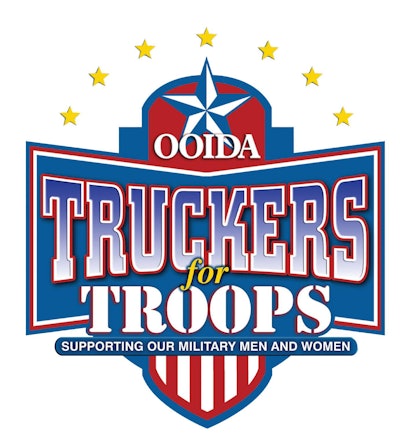 The annual campaign by the Owner-Operator Independent Drivers Association to raise money to send care packages to troops overseas raised more than $38,500 earlier this month.
The week-long Truckers for Troops fundraising effort, held Nov. 5-9, officially raised $38,536. Shell Rotella helped the 2018 campaign get off to a good start with a $2,000 donation.
OOIDA started the campaign in 2007 and has raised more than $500,000 for care packages and other supplies to be sent overseas. Truckers for Troops also helps veterans facilities in the U.S., including those assisting or housing wounded, disabled or homeless veterans.
The Association is still seeking addresses for sending packages and is accepting personal cards or letters to include in the packages. Anyone who has a family member or friend serving in a combat zone with the military can send the name and complete address to troops@ooida.com, along with the projected stateside return date. OOIDA is also looking for veteran facilities with unmet needs.
Those who wish to send cards and letters can send them to: Truckers for Troops, P.O. Box 1000, Grain Valley, MO 64029. Town or school names can be included, but do not include last names or other personal information. Packages go out in January or February, so Christmas or holiday-themed cards are not necessary.