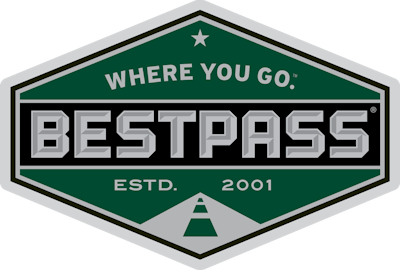 Bestpass, which provides single-source payment and streamlined toll management services to fleets large and small, including independent owner-operators, hit significant milestones in 2018. Those included surpassing 500,000 active transponders deployed on U.S. toll roads, launching Bestpass Rebilling to enable customers to seamlessly reassign toll transactions, announcing a pay-by-plate service for trailer rental and leasing companies, and hiring 22 new employees.
"Our year-over-year growth, especially over the past year, underscores the value of Bestpass toll management for our customers, as well as our ability to continually improve our service and engage new markets," said John Andrews, president and CEO of Bestpass.
As of this linked report in June, the company sat just nort of 430,000 units in use in its network.
"We are incredibly proud of our success in 2018 and look forward to continued growth in 2019 as the toll experts for commercial fleets of all shapes and sizes," Andrews added.
Bestpass 2018 Highlights at a Glance
Surpassed 500,000 active transponders operating within the company's nationwide toll coverage network
Added more than 1,700 new customers, bringing total number of customers to nearly 6,000
Launched Bestpass Rebilling, a technology that allows customers to seamlessly reassign toll transactions to specific business units, customers or contractors
Announced a trailer pay-by-plate solution to help trailer rental and leasing companies manage toll costs and avoid costly and time-consuming violations
Exceeded $100 million in toll-related savings to date for customers
Hired 22 new employees, bringing total number of employees to 78