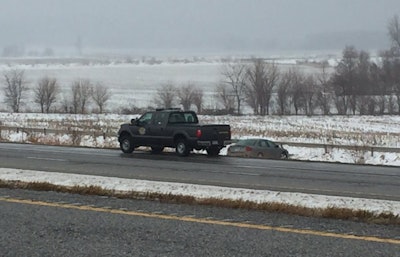 A truck driver was reportedly held hostage in Missouri Tuesday after stopping to help a stranded motorist with a young child on the side of I-29.
According to a report from News-PressNow, the trucker came across a woman who had lost control of her car in snowy conditions and ended up in a ditch. Upon stopping to help, the woman and a 6-year-old girl believed to be her daughter got in the truck, then the woman reportedly pulled out a flare gun and threatened the girl and the trucker if he didn't keep driving.
"At that point, basically a hostage-type situation occurred," said Sgt. Corey Root of the Missouri State Highway Patrol told the news outlet.
The trucker drove nearly 26 miles north until law enforcement approached and stopped the truck. The driver was able to get out of the rig while the woman and girl reportedly remained inside for a while before coming out.
The woman was arrested, and the girl was placed in the care of family services. The woman faces charges of felony assault, felony first-degree kidnapping and armed criminal action.
See what @MSHPTrooperH had to say about the hostage situation that occurred on I-29 today. @newspressnow pic.twitter.com/Vro0vtMhaY

— Jessika Eidson (@NPNowEidson) January 22, 2019
Near mile marker 82 of I-29 where a woman's car slid of the road earlier today. She and her child were later picked up by a truck driver, who was later held at gunpoint with a road flare by the woman. More details to come. pic.twitter.com/ovGHxja9Nq

— Jessika Eidson (@NPNowEidson) January 22, 2019