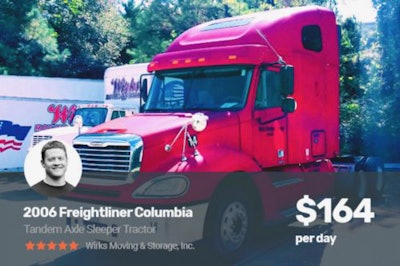 "Somebody had to do it," says Marco Ardila, the Florida-based 31-year-old CEO of Firstway Logistics Trucking, when he heard of a new sharing platform for commercial vehicles, COOP by Ryder.
"The first thing that crossed my mind is this could be Airbnb for the trucking business," he says.
In his personal life, Ardila has used the websites of Airbnb to find lodging and Uber to find transportation on demand. He's watched as these online marketplaces have taken the hotel and taxi industries by storm. "I'm always looking for the next thing," he continues. "To me it made a lot of sense. This is where things are going."
The practice of motor carriers renting and leasing equipment from other motor carriers is nothing new, really. Many carriers have inter-change agreements allowing their shipper customers and third-party carriers to use trailers. Some freight brokers also rent trailers to carriers or offer use of trailers in relocation agreements.
Online equipment rental marketplaces are rare, however. One might not expect to see a new sharing platform come from a company already in the equipment rental and leasing business, as this would only increase the competition. Yet that's exactly what Ryder — a commercial fleet management, dedicated transportation, and supply chain solutions provider — did by launching COOP in March 2018.
Ryder began in the Atlanta market. To date more than 300 companies have utilized COOP, including the Atlanta Opera, Sutherland's Foodservice and Crossover Entertainment Group, Ryder says.
On Thursday, Jan. 24, Ryder announced the expansion of the digital platform in South Florida and plans for availability in all of Florida by the end of the year.
Ardila's Firstway Logistics Trucking has been in business for 12 years. On any given day the company may have several trucks and trailers idle with ongoing difficulties employing drivers, among other reasons. "Miami is a really tough spot to be a carrier," says Ardila, noting rising insurance costs and scarcity of qualified drivers.
On Jan. 5, the company began renting some assets to other motor carriers through the COOP platform. The first transaction was renting three reefer trailers for three days. This led to a rental contract of five trailers for 20 days.
"That was good deal for us," he says. On Thursday, Jan. 24, he had just completed a transaction for one truck for two days. The customer will likely be renting the truck for 2-3 days every week over the next six months, he says.
Firstway Logistics Trucking's rental revenue is about $128 dollars a day plus $0.12 per mile for trucks. The reefer trailers go for approximately $69 a day plus $1 per hour for run time, he says.
After analyzing the numbers, Ardila says renting is more profitable than hauling freight. "I'm really looking forward to finishing these deals and see the money coming in," he continues. "It looks like an amazing business for us. I really hope it can be the future for our business."
As equipment lenders, fleet owners can list their vehicles on the digital platform, set vehicle availability for idle periods, and upon vehicle return receive guaranteed payments from Ryder. Ryder says all COOP users are vetted to ensure they comply with safety and reliability standards. Each transaction is covered by physical damage insurance and a $1 million liability policy and includes 24/7 roadside assistance.
Since launch, the digital platform has been enhanced to include Ryder's 24/7 roadside assistance and free Uber rides to a pick-up location for borrowers. In addition, COOP offers a revenue calculator to assist lenders with estimating their earning potential. Based on user feedback, replacement vehicle coverage and advanced user ratings were added to the platform as well. In early 2019, lenders will be able to set their own prices and access revenue summary analytics.
Read more about the program via Overdrive sister fleet-focused publication CCJ.