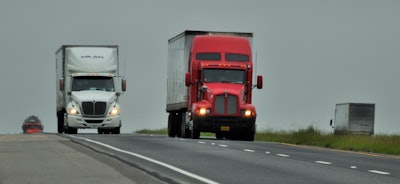 Foremost Transport-leased owner-operator Rudy Yakym Jr., toting RVs west from his Northern Indiana home base and hauling a variety of vehicles back on a dovetail step deck, ran into a problem last year following the turn to electronic logging devices.
On his typical turn to the West Coast and back, he was "running out of hours about halfway back," thanks to hours of service limitations gaining a harder edge. "It's a pain in the rear to set aside for 34 hours to get a reset" over part of the seventh and eighth days of the trip, he says. "I am considering running shorter runs."
Yakym is not alone. A multitude of owner-operators appear to have been making such a decision where possible – or having it made for them – to reconcile the scheduling demands of shippers and receivers with new close attention to hours limits. Other factors also are at play.
"I believe length of haul does continue to shorten as a result of consumer demands for quicker deliveries and more warehouse space being built regionally," says Todd Amen, president of owner-operator business services firm ATBS. Speaking during a November trip to Phoenix, he added, "It seems like there's a new million-square-foot warehouse being built every week down here."
As large shippers and receivers have invested in warehouses closer to destination points – sometimes called the "Amazon effect" of e-commerce growth on truckload – average truckload length of haul has fallen. A calculation by American Trucking Associations Chief Economist Bob Costello shows dry van length of haul has declined from around 800 miles in 2000 to just more than 500 in 2017. As Rob Urban wrote in an April Bloomberg story about the new sparkle in commercial real estate investment, "The future lies in warehouses."
Carrier sales teams dealing with larger shippers building those new warehouses are increasingly taking drivers' regulated hours into account in building runs. The carriers see major inefficiencies in hauls falling outside of 500-mile increments for solo drivers and are adjusting rates accordingly.
As the ripple effects of the ELD mandate continue to spread, however, owner-operator priorities around length of haul may be shifting faster than Amazon can build warehouses, and faster even than carriers can complete a shipper's request for an annual rate bid.
Look no further than the income questions in the late 2018 Overdrive survey for evidence that even the record rate gains in late 2017 and the first half of 2018 haven't been able to offset operational difficulties. Almost two-thirds of survey respondents – mostly independents with authority – reported being on track for an income drop in 2018. Only 7 percent reported being on track to make more in 2018.
For a lot of the last year, Ahearn Transportation one-truck independent owner-operator Kenny Capell of Philadelphia, Tennessee, has shifted his priorities to a shorter length of haul. He attributes that in part to the ELD transition, which he entered ahead of the December 2017 compliance period for the mandate when he adopted the BigRoad ELD.
Also, "I've found that if I can run in the 400-mile neighborhood, I can do better [on rates and income] than looking at a longer load," he says. He also cites generally low rates on cross-country runs handled by company drivers and leased owner-operators, most getting paid by the mile.
With more freight demand moving to regional lanes, "I started taking advantage of Florida last year" as a drop destination, he adds, positioning himself every other day for a load out of Atlanta, often deadheading back to do it over again.
Heading into the mandate's compliance date, such hauls in his van were commanding well north of $3 per mile. "It's not the same this year," Capell said in November, on his way back north after a Florida drop that grossed $2.67/mile to the truck.
Above $3, the runs were perfect in some senses, easily completed in a single day and bringing ample revenue – $5,000-plus gross weekly that Capell calculated as well more than $50 per hour in worked-for income – even with deadhead back to the Atlanta region.
Zipline Logistics, a Columbus, Ohio-based freight brokerage, has taken a close look at ELD use and haul length. Zipline has been in business about a decade, working mostly with food and beverage brands and suppliers of ingredients and materials as shipper customers. In April, then again late in the year, Zipline surveyed its carrier network of small and comparatively large fleets and found that plenty of them also were viewing shorter runs favorably.
Based on responses from more than 100 carriers, a principal difference emerged in responses from two groups: fleets of 30 or fewer trucks and those with more than 30. The groups showed a mirror image centered on lengths that brokers have called the "dangerous lanes" when run by solo drivers — hauls that stood to rise in price for their customers, given they're just barely able to be completed reliably in a single day within hours limitations.
Zipline's survey asked respondents to indicate certain lengths of haul as either more or less desirable since the turn to ELDs. Most smaller fleets, where Zipline believes solo drivers are more the norm in their carrier base, indicated shorter runs were more desirable to maximize productivity. Larger fleets showed the opposite pattern, which Zipline attributes to various factors.
For both sets of respondents, "the length of haul desirability flips at the 451-700-mile mark," Zipline says. "It is in that range that for many smaller fleets … a load goes from a one-day point to a two-day point. The extra day of transit poses a high opportunity cost for these carriers, opportunity costs that carriers with larger driver pools can avoid by keeping these lanes to a one-day transit" through team operations or relay systems.
Zipline President Andrew Lynch says the company computed transit days for a variety of lengths of haul for three clients that ship freight with minimal seasonality and found an "immediate impact from the mandate." Transit days on average for regular shipments between 450 and 550 miles was 16 to 17 percent higher than in the prior period. That rose to 18 percent after full ELD enforcement began, using data from April through October.
Lynch notes that for moves of 900 to 1,100 miles, "what would have traditionally been a two-day transit, those barely moved at all" from an average-days perspective, as time lost at docks on either end isn't as crucial to on-time delivery. "I think that almost supports the idea that the ability to leverage multiple yards" for drop-hook opportunity as a carrier running lengths of haul in the one-day danger zone is probably "a big differentiator" for carriers of size.
Lynch adds that with the bigger carriers tending "to be running this big long-haul freight, and at the lower end of paying drivers. … small fleets, meanwhile, are experiencing growth. If the only growing marketplace of drivers is going to be attracted to a certain length of haul and below, does the shipping community need to look at this and take some action? If a carrier has multiple yards, conversely – if you can leverage multiple yards – should you just focus on those longer hauls?
Capell, who hauls with his own trailer, knows the overall short-haul dynamic well. His Atlanta-Florida runs have worked out as well as they have over the last year in part because his deadheading back allows him to avoid one load and unload each time.
Leased owner-operators naturally have liked "longer hauls with less wasted time delivering, picking up," says ATBS' Amen. "But in the end, we've moved to a world where revenue per hour or day," as Capell's and Lynch's thoughts show, "is the metric that matters, not so much miles anymore. If shipments are aligned to maximize daily productivity of the driver, they will cost more with the ELD mandate, and everyone being able to track the data of wasted time."
The option for independents to provide power only also seems to be proliferating as more brokers start to look like leasing fleets, investing in large trailer pools. Digital-broker upstarts Uber Freight and Convoy last year became the latest to introduce power-only options to their carriers, with cutting wasted time in mind.
Amid owner-operators' increased attention to time engendered by the ELD mandate, Overdrive's own survey of its readership also showed some preference for shorter runs after the mandate. The top three haul lengths designated as more desirable:
• 101-250 miles, named by 25 percent of respondents
• 251-450 miles: 37 percent
• 451-700 miles: 30 percent
The haul-length ranges ranked least desirable, meanwhile, were the three ranges beginning at 451 miles on the short end, above 1,000 miles at the top.
Owner-operator Yakym was heading out on a long run from Indiana toward Montana, a little shorter than his typical hauls further west, when he spoke in November with Overdrive. From Montana, he might make the turn within his 70-hour cumulative hours limits straight back, unlike his typical West Coast run. But freight out of Big Sky Country might also have made that unlikely. Past experience dictated the likelihood of Southern California as a next destination.
"If I do that," he said, "I'll have to do a 34-hour reset along the line" somewhere.