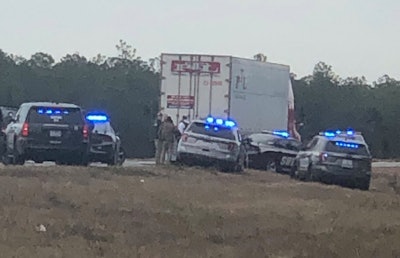 Update – Wednesday, Jan. 30, 2:45 p.m. Central: The yet unidentified truck driver involved in what ended up being a five-hour standoff with police did not actually threaten police officers with a machete, contrary to earlier reports from media outlets. Mississippi Highway Patrol Master Sgt. Chase Elkins said in a press conference the machete report stemmed from Jackson County Sheriff deputies seeing a machete in the truck when they first pulled the trucker over before he led them on a chase.
Elkins said when the truck driver stopped near milemarker 59 on I-10 Westbound, he communicated over the phone with the sheriff's department for five hours before surrendering on his own without injury.
The incident began with a road rage incident between two truck drivers, Elkins said, and the truck driver who led police on a pursuit hit three other vehicles before stopping. There were no injuries from these collisions, Elkins added. Police used non-lethal gas and smoke to get the driver out of his truck.
I-10 is now fully open in both directions.
Update – Wednesday, Jan. 30, 2 p.m. Central: The Mississippi Highway Patrol reports the truck driver involved in the standoff with police has been safely taken into custody. The Mississippi Department of Transportation reports the left lane of I-10 Eastbound at milemarker 61 is blocked, while the right lane on the westbound side is still blocked.
Driver is in custody! No injuries!

— MHP BILOXI (@MHPTroopK) January 30, 2019
Original story follows:
STANDOFF CONTINUES: Chase that began in Mobile leads to I-10 shutdown, trucker standoff

READ MORE: https://t.co/Wqb67Lt5To https://t.co/C2kS3LwCoC

— NBC 15 News (@mynbc15) January 30, 2019
A truck driver is reportedly in an armed standoff with police along I-10 in Mississippi Wednesday afternoon, according to a report from Mobile, Alabama-based NBC15.
The report states the standoff began as a road rage incident in Alabama involving the trucker and other vehicles. The driver then led police on a chase west into Mississippi, where he was pulled over sometime before 10:30 a.m.
The driver then reportedly got out of his truck brandishing a machete and came at the police officers. The deputies then reportedly backed off, and the truck driver got back in his truck and locked himself in.
As of 1 p.m. Central time Wednesday, police are attempting to coax the driver out of the truck. As a result, I-10 in Mississippi is shut down in both directions between exits 57 and 60.
This story will be updated as more information becomes available.
Law enforcement in standoff w trucker on I-10 in #Mississippi east & westbound lanes closed b/t exits 57 & 60. NBC 15 has a crew en route. @mynbc15 pic.twitter.com/ddVCogHbF0

— Kelly Foster (@Kelly_WPMI) January 30, 2019
Multiple agencies are on scene with a barricaded driver of an 18 wheeler on I-10 @jacksoncountyMS Sheriff department is trying to negotiate with the driver.

— MHP BILOXI (@MHPTroopK) January 30, 2019