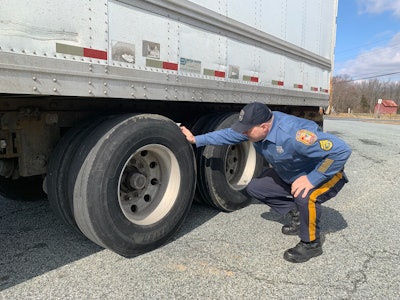 Commercial vehicle enforcement officers in Delaware and Maryland recently conducted inspections on 85 trucks and issued 77 citations during a two-day operation targeting trucks that were bypassing the new U.S. Highway 301 toll road.
The Delaware State Police CMV Enforcement Unit and the Maryland State Police CMV Unit conducted the enforcement initiative on Feb. 28 and March 1 from 5 a.m. to midnight each day.
During the blitz, officers stopped 85 trucks that were found to be bypassing the tolls, all of which were inspected as a result. In addition to the 77 traffic citations issued, police also issued 50 written warnings for various offenses. Police also placed two trucks and one driver out-of-service for safety violations, DSP reports.
"During this operation, the primary goal was to keep commercial vehicles from traveling on roadways that are prohibited for their use," said Sgt. John Samis, supervisor of the DSP CMV Enforcement Unit. "We have worked with DelDOT officials to ensure that there is proper signage to alert the truck drivers. We also keep an open dialogue with the drivers themselves to explain the issues caused by them using the wrong roadways."
The U.S. 301 toll road runs 11.9 miles from the Delaware-Maryland state line to Delaware Highway 1. Tolls for five-axle trucks are $11 one-way with E-ZPass or $13 if the invoice is mailed to the license plate registrant.