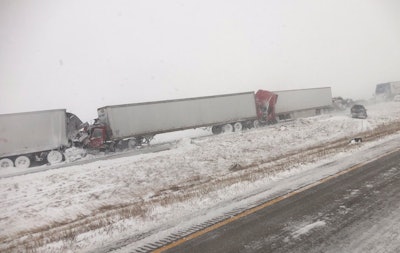 Update – Thursday, March 14, 3:45 p.m. Central: Colorado DOT reports that all interstates are back open in the state except for I-25 between milemarkers 158 and 181.
Additionally, I-70 in Kansas has reopened. Interstates listed below in Wyoming, Nebraska, South Dakota and North Dakota are still closed Wednesday afternoon.
Original story follows:
100-CAR CRASH ON I-25: Multiple agencies from across northern Larimer County, Weld County, and Wyoming responded to a 100-car crash on I-25, north of Wellington this morning. Injuries ranged from minor to serious, with no fatalities reported, per @WellingtonFire1.#MarchBlizzard pic.twitter.com/B9vilzPIhe

— CBSDenver (@CBSDenver) March 14, 2019
An intense blizzard that consisted of hurricane-force wind gusts and heavy snow has forced the closure of some major highways in Colorado, Kansas, Nebraska, Wyoming, North Dakota and South Dakota.
In Colorado, portions of I-25, I-70 and I-76 are closed until at least Thursday afternoon. Both directions of I-25 are closed between milemarker 150 and milemarker 181, as well as the northbound lanes from milemarker 276 to the Wyoming state line.
According to a report from the Coloradoan, 100 vehicles were involved in a number of crashes in a one-mile stretch of I-25 near Wellington on Wednesday because of the blizzard. The report says one pileup collected about 30 vehicles, while another involved about 40 vehicles. Other smaller crashes in the area brought the total to around 100, the report adds. No fatalities have been reported from the pileups.
Two more photos from today's 100-car pileup on I-25. Additional information can be found on our Facebook page. pic.twitter.com/Nk93oVEild

— Wellington Fire Protection District (Colorado) (@WellingtonFire1) March 14, 2019
In addition to I-25, a 159-mile stretch of I-70 is closed in Colorado between milemarker 289 and the Kansas state line. Both directions of I-76 from milemarker 12 in Colorado to the Nebraska state line are also closed.
Up-to-date travel information for Colorado can be found here.
In Kansas, I-70 is closed for approximately 145 miles between the Colorado state line and Hays.
In Wyoming, I-25 is closed in both directions from the Colorado state line to Kaycee, with the southbound lanes closure extending to Buffalo. Additionally, most of I-80 is closed across the entirety of the state, and I-90 is closed between Sundance and Moorcroft.
I-80 is also closed in Nebraska from the Wyoming state line to the U.S. Highway 183 interchange near Elm Creek.
In South Dakota, I-90 is closed between Rapid City and Chamberlain.
Finally, in North Dakota, I-94 is closed in both directions between Bismarck and Fargo, and I-29 is closed between Fargo and the Canadian border.