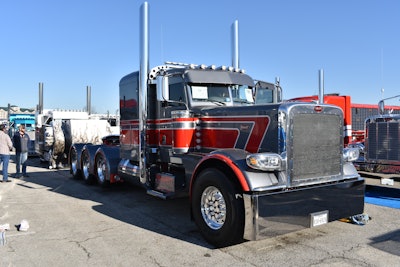 The Mid-America Trucking Show kicks off at 1 p.m. on Thursday at the Kentucky Expo Center in Louisville, Kentucky. This year's show will feature numerous exhibitors, live entertainment, show trucks, business seminars and much more.
The Paul K. Young Truck Beauty Contest and a number of live music performances are among the several events happening at the show this week.
Overdrive will be covering the show every step of the way through Saturday. Here's how you can follow along this week:
Daily report: Sign up for Overdrive's daily newsletter to have the show's headlines sent directly to your inbox.
Facebook: Like Overdrive on Facebook for MATS highlights, including live video of the show's events, equipment announcements, truck photos and more.
Twitter: Follow @OverdriveUpdate on Twitter for a live look at what's happening in Louisville. For more in-depth show coverage, follow Editorial Director Max Heine (@maxheine), Senior Editor Todd Dills (@channel19todd), Senior Editor James Jaillet (@trucknewsJJ) and News Editor Matt Cole (@MattColeRR).
Instagram: For even more show photos and videos, follow @OverdriveTrucking on Instagram.