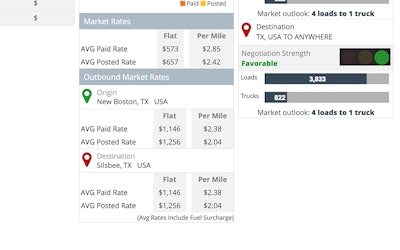 Owner-operators looking to score better rates, especially while working the spot market, should leverage available data and work to build relationships with brokers, said Brent Hutto, marketing director at Truckstop.com, and Tyler Johnston, a broker at Mercer Transportation. They spoke in a seminar focused on rate negotiations Thursday at the Mid-America Trucking Show in Louisville, Kentucky.
To underscore how taking steps to negotiate better rates can pad an operator's bottom line, Hutto said that by boosting per-mile rate offerings by just 7 cents on average, a driver could add nearly $7,000 a year to their take-home pay. "So how important is negotiation?" he said.
Both he and Johnston said one of the most important steps an owner-operator can — and should — take is to build relationships with brokers. "It's plain ol' favoritism," Johnston said. "If you're a good carrier and you call me all the time, I'll absolutely give you better rates."
Building connections with brokers, in addition to stronger rates, often leads to steadier lanes and routes and access to more loads and more favorable loads, they said.
Hutto also pressed the importance of using available data, such as that available from Truckstop.com, on rates and lanes to help earn the best possible rates from brokers. Operators should be well versed on the current rates relative to their desired lanes and their equipment type, as well as rate averages from the most recent week and month. That type of data is available from Truckstop.com, Hutto said. More than 100 million loads are moved every year on the Truckstop.com load board, giving the firm access to a breadth of rates data.
"We don't work in a static market," he said. "Check the rates before you talk to a broker. Know the market dynamics and understand what the rates are" and what is influencing the rates, he said.
Operators should be as specific with brokers as they can about their equipment type and location, as well as why they need a better rate than what loads are being offered at, such as if they need to deadhead to get to the load and other circumstances. Brokers can then in turn contact their shipper customers and relay why the rate needs to be bumped up.
Johnston also encouraged operators to ask brokers about what type of load it is they're offering — either a bid load or a tendered load. Brokers haven't actually locked down bid loads yet, as shippers often push loads out to multiple brokers and accept the best offer that comes back. In these situations, brokers usually have more room for negotiation, though they sometimes don't themselves land the load from the shipper.
Tendered loads are already booked to the broker, meaning their rate is set and that they may not have as much room to negotiate, says Johnston. But brokers are not at risk of losing tendered loads to other brokers while negotiations occur. "My obligation" on tendered loads, says Johnston, "is to move [the load] for the rate I've already agreed upon."
He says brokers "won't be offended" if you ask them whether the load is tendered or a bid load.