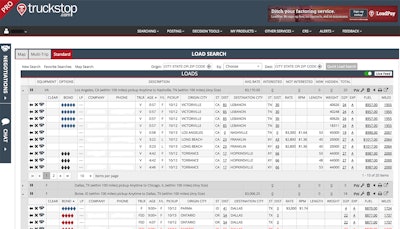 Truckstop.com, an early entrant into online freight matching and now a major player in spot market freight movement, will use its recent infusion of Silicon Valley investment cash to flesh out new products for its broker and carrier customers, says Truckstop.com CEO Paris Cole.
The company doesn't plan to pivot away from its core business of connecting brokers and carriers, Cole said. Rather, the investment will allow Truckstop.com to grow its product development team in the short term, says Cole, and, longer term, the capital will help the company to accelerate the rate at which it brings new products to market.
"What our customers will see in the future is a continuation of what we've been doing since our inception," he says, "and that's to focus primarily on our carriers and helping them connect with [third-party logistics companies] and brokers and to make it easier for them to do business and to grow their business."
The company announced last week that Iconiq Capital, an equity firm based in San Fransisco but with operations in New York and Sinagapore, too, had acquired a controlling interest in Truckstop.com. The company did not disclose terms of the deal, including the percentage of Iconiq's ownership or the dollar amount Iconiq paid for its equity stake.
Cole couldn't yet discuss products the company plans to develop and unveil, but he said the goal is to "reduce the friction that exists between [Truckstop.com's] brokerage and 3PL customers and our carrier customers, to make it easier for them to connect with one another and eliminate a lot of the waste that exists today as they try to facilitate the movement of freight."
Iconiq approached Truckstop.com several years ago about acquiring equity, Cole said, and the companies have been in dialogue since then. Late last year, Truckstop.com "started seriously talking about looking for another investor," Cole said, "and then in early 2019 we got really serious and identified Iconiq as a partner we wanted to go with."
Truckstop.com in part chose Iconiq as an investor "because they believe in our roadmap," he says.
The partnership with Iconiq isn't in response to any specific market pressure, said Cole, such as fast-growing freight-matching platforms like Convoy, Uber Freight and others. Those companies, as digital brokerages, aim to connect shippers and small carriers directly, whereas much of Truckstop.com's loads are mostly posted by brokers themselves, rather than shipper-direct freight.
Instead, Cole says, the deal with Iconiq was solely about executing the company's existing "roadmap of products," he says.
"We don't see ourselves as a competitor to those companies," said Cole. "This investment was about enabling our marketplace and bringing more products and more value to customers as quickly as possible."