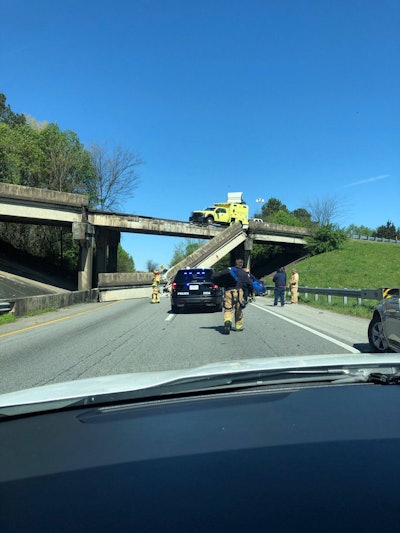 A partial bridge collapse near Chattanooga, Tennessee, from the I-75 southbound ramp onto the I-24 westbound ramp will cause delays in the area for weeks, according to the Tennessee Department of Transportation.
TDOT Chief Engineer Paul Degges said in a press conference that the concrete rail of the I-75 bridge collapsed onto I-24 below on Monday, April 1. He said an early investigation of the failure appears to point to an overdimensional load striking the bottom of the bridge and cutting some of the steel reinforcing strands in the exterior beam.
"We believe some type of overdimensional load went under the bridge and sliced through some of those steel strands," he said. "It didn't collapse immediately, but with that load on it, it could have been a matter of hours or a couple of days."
TDOT crews were able to get all lanes of the I-24 ramp reopened by Monday evening, along with one southbound lane of the I-75 ramp. The I-75 southbound ramp will remain with just one lane open until permanent repairs to the railing are made, which TDOT expects could take three to four weeks. The bridge will reopen to two lanes when repairs are made.