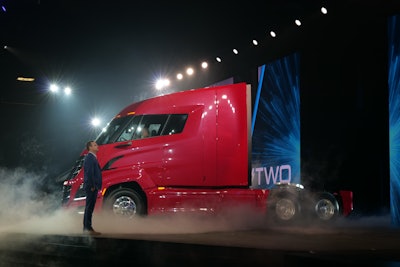 Nikola founder and CEO Trevor Milton was upset about flying into Long Beach, California, this week to attend the Advanced Clean Transportation Expo.
"I love to fly. I'm a pilot as well," he told the crowd at the Expo's general session. "And I come down into Long Beach this morning and what do I go through? A giant cloud of not just fog, but pollution stuck to it."
Milton struck a chord with the audience, many of whom applauded when he talked about how his generation was fed up with lack-luster efforts to reduce pollution.
"I think my generation doesn't care anymore. They're so tired about the crap that was left to us," he said. "My generation is tired of seeing the smog and the pollution."
Milton sees diesel-burning trucks as being a big contributor to air pollution in the U.S. and believes the push to ban diesel in Europe is also gaining momentum in the U.S.
"Hashtag diesel is dead. We're tired of it," he said. "We need to fix a lot of the problems and change things. Other people are not going to do it unless they're forced to, so If that means we have to force them, it's about damn time."
Milton touts his company's fuel cell and all-electric trucks as producing zero-emissions, but getting there won't be easy as both powertrains come with their own unique challenges.
"You put a hundred trucks on a city's grid right now and you'll bring it to its knees on battery electric," Milton said. "You bring a hundred hydrogen trucks into the city and you balance their entire grid."
Milton envisions using all-electric trucks in the city while fuel cell models hit the road for long haul. His Nikola Two fuel cell truck, which he put on display this week on the expo's exhibit floor, has a range of up to 750 miles.
Nikola's Class 8 electric trucks with a range of about 300 to 400 miles will weigh about 5,000 pounds more than their hydrogen truck. However, EV gets a leg up in the tough arena of infrastructure build-out because chargers are easier to set up than costly hydrogen stations.
"Electric is very easy to implement," Milton said. "You've got some expense on chargers. You've got some grid things going on that you have to pay for, but they're very easy to implement."
However, the cost for hydrogen fuel itself can be brought below diesel if the gas is produced in-house with solar power. And refill time for a fuel cell is only 15 minutes versus much longer wait times for EV charging.
Sourcing battery material is also a concern for Milton.
"Right now they're digging up mines with child labor to pull these batteries out? I'm tired of it," he said. "People are not telling the truth about it and it drives me nuts because I don't want to support child labor. The only thing you can use indefinitely forever is water and hydrogen. It's the only resource that will not go away."
Talk of battery costs dropping didn't set well with Milton either, who referred to rising lithium prices brought on by increased EV production in the U.S. and abroad, particularly in China, the largest consumer of lithium in the world.
"I just want people to speak the truth. You can't solve problems when you don't talk about it. Material costs have gone up. Battery costs have gone up 25 to 30 percent the last 12 to 18 months. They're not coming down. The more people that jump in, the more expensive it gets," he said.
Pre-orders for Nikola's trucks have reached $14 billion, Milton said. Eighty percent of those orders are for the company's fuel cell models.