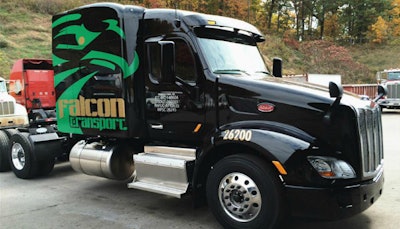 In a story echoing that of the high-profile Christmas Eve 2009 closure of mega-fleet Arrow Trucking, the 700-truck operation Falcon Transport on Friday, April 26, suddenly ceased operations. The Youngstown, Ohio-based fleet deployed text messages and emails to workers that day notifying them of the closure, leaving its drivers stranded without jobs, pay, access to fuel or even a way home, according to accounts posted to Facebook and local news reports.
The company sent emails to its nearly 500 drivers Saturday telling them to stop work immediately. The company is also said to have blamed a computer malfunction when drivers did not have their paychecks direct deposited as usual on Friday.
In all, 577 people are out of work: 89 office employees, 81 owner-operators and 407 company drivers, according to The Youngstown Vindicator.
The Youngstown Business Journal is among numerous media outlets that say Falcon Transport's Director of Operations Jayson Calhoun sent an email to employees Saturday saying:
"We regret to inform you that Falcon Transport Co. is not able to continue operations and will be shutting down effective today. Please stop any work you are doing for the company immediately. You are not expected to return to work. Please be on the lookout for further information we will be sending regarding this information."
Most reports of Falcon's closing blame it on the shutdown of the General Motors Lordstown Complex early last month. GM built its Cruz sedan at the plant. It was a major customer of Falcon, which had dry van and flatbed operations.
Calls to Falcon's headquarters to received a message saying it was not a working number.
Salt Lake City reefer fleet ShipEx was among the companies offering assistance to Falcon drivers.
Carson Downing of ShipEx said the company will provide meals to drivers stranded by Falcon's closure and help the drivers find transportation home, if needed. The company is also extending employment opportunities to those drivers, said Downing. "If they need a new driving position starting ASAP, we can start getting them set up here at ShipEx to help get them up on their feet again," he said. Drivers can call 385-274-0638 to reach ShipEx reps.