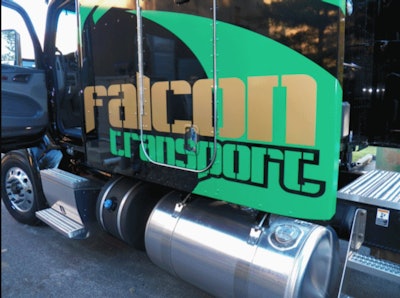 As reported Monday, Falcon Transport, a roughly 700-truck fleet out of Ohio, suddenly shuttered its operations Friday, April 26, notifying workers via ELDs, text messages and emails that they should halt work immediately — including drivers still on the highway hauling the carrier's freight.
In addition to marooning those drivers — stranding them without pay, fuel cards or a ticket home — the fleet left millions of dollars in freight stranded roadside and at truckstops, along with leased trucks and company-owned equipment, according to a company official. The fleet had also in recent weeks left its leased owner-operators' and independent contractors' insurance premiums unpaid and had skipped out on hundreds of thousands — if not millions — of dollars owed to brokers.
Andy Straley, the company's executive director of safety, compliance and risk, said he learned about the fleet's closure the same as drivers and other office personnel, despite being in upper management at the company. Straley also worked as a driver trainer, and he said he was in the field when his electronic logging device received a message telling them to "stop work immediately." He then received an email with the same message shortly after.
He estimates that between 80 and 140 drivers were left stranded by the sudden closure, and that the fleet de-activated the drivers' fuel cards. "I think it was an unethical move," he said regarding leaving drivers' stranded. He said Falcon's ownership, an equity company based in Los Angeles, "didn't understand the repercussions of something like that."
Drivers and other employees at the company have already filed a class-action lawsuit against the company alleging it violated the WARN Act, which requires companies with more than 100 employees to provide at least 60 days notice before mass layoffs or closings. Falcon employees are seeking back pay and owed benefits for the 60-day period for which they argue they were owed notice.
Straley and others have outlaid thousands of dollars of their own money to help drivers fuel up to get home, he said.
Most reports of Falcon's closing blame it on the shutdown of the General Motors Lordstown Complex early last month. GM built its Cruz sedan at the plant. It was a major customer of Falcon, which had dry van and flatbed operations.
However, Straley says he disagrees with that assertion. The company was actually losing money on that account, he said. "We were losing millions [of dollars] in expediting freight for GM," he said.
He said he'd noticed recently the company had hundreds of thousands of dollars, if not millions, in unpaid invoices from brokers. He also said the company hadn't been paying insurance premiums for its leased owner-operators and contractors, despite having taken money from those drivers' weekly settlements for insurance payments.
Those insurance policies were cancelled in March, he said, meaning the drivers under that policy had been operating without insurance since.
Falcon "had plenty of indiction to give us (employees) notice" that the company was failing, Straley said. Some employees have received paychecks, but others, including himself, have not received recent paychecks.
Straley has only worked for Falcon for five months, since December. He was lured away from another fleet, where he performed a similar job function. "I was under the notion the company was very strong," he said. Management told him they had strong financial backing and only wanted him to help shore up their safety and compliance program. His former fleet was stable, he said, and Falcon's sudden closure "is devastating to me."
CRST and ShipEx are among carriers who have publicly said they'll help Falcon drivers find meals or get home. ShipEx also said they'd help drivers land jobs at the company. The Ohio Trucking Association has also said it will help the displaced drivers find new jobs.