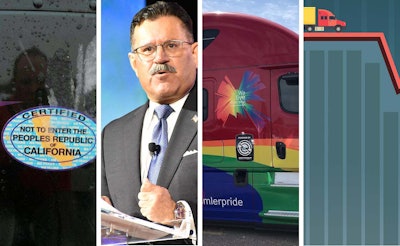 With 2019 in the rearview, a look back at the top trucking themes, trends and news from the year and links to Overdrive's coverage of all.
The plateau that felt like a downturn nipped owner-operator pay and spurred a few high-profile fleet closures.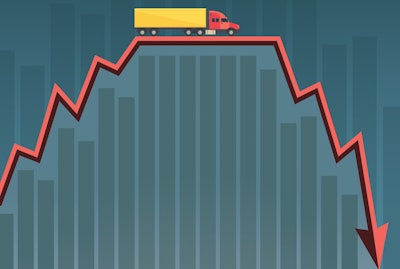 The basic theme of the year, at least from a business perspective, was as figurative as it was literal: We're not in 2018, anymore.
Largely considered exceptional for carriers and owner-operators' bottom lines, the capacity and rates environment that was so good in 2018 vanished as the calendar flipped. Though the descent back to reality had been in the works for several months in late 2018, it was masked by the usual holiday freight season that starts before Halloween and runs through Christmas.
Questions began swirling in January as key indicators of freight demand suddenly were decelerating, truck orders hit record lows and spot rates began sinking. Indicators mostly stabilized by mid-year, and most analysts said the industry had simply hit a flat, no-growth cycle. But to many in the industry, including owner-operators who work the spot market, the flat cycle felt like a true downturn.
Owner-operator income, though still historically strong, hit a wall this year after climbing in recent years. A few fleets, some of them high-profile carriers, suddenly shuttered operations and filed for bankruptcy, in some cases leaving drivers stranded with equipment and loads.
Most notably, in December, the 3,300-truck Celadon Group suddenly ceased operations after failing to secure financing to continue operating and after years of trying to rebound from a financial scandal.
In April, the 700-truck Falcon Transport marooned its drivers, brokers and insurers with its sudden closure. In February, the 1,700-truck New England Motor Freight abruptly shutdown and filed for Chapter 11 bankruptcy. The roughly 400-truck LME, Inc. shuttered in July.
Major fleets Swift, Roadrunner and Stevens Transport announced downsizing efforts.
As noted by Overdrive in July, high liability insurance rates are taking their toll on carrier profitability — a trend that became particularly pronounced in 2019.
The ball rolled on hours of service reforms — and FMCSA boss Martinez departs.
Slowly and incrementally, work toward overhauling hours of service regulations continued in 2019, but the man who set the reforms in motion — FMCSA Administrator Ray Martinez — resigned from his post with little warning after the agency published a proposed overhaul of HOS regs.
To a packed room at the Mid-America Trucking Show in March, Secretary of Transportation Elaine Chao announced that FMCSA would proceed with a proposed rule. The announcement followed a 45-day public comment period held in the late summer of 2018 to determine wither FMCSA should take up a rule to reform federal hours regs.
Then, in August, Martinez took to a conference call with the press to release a draft of the agency's proposed changes. Chiefly, the plan would allow drivers to pause their 14-hour clock for up to three hours to go off-duty, and it would provide a slightly expanded split-sleeper berth provision (to allow a 7-3 split where the shorter period also stops the clock, unlike the current split and separate from the 14-hour clock pause). Though retaining the 30-minute break, the proposal would allow more flexibility for how it's used (though owner-operators at the Great American Trucking Show in Dallas in August asked the agency for even greater flexibility). A final rule to implement the reforms could take months, if not years, for the agency to publish, however.
Then in October, just as the HOS comment period closed, Martinez abruptly put in his two week notice at FMCSA, part of a larger personnel overhaul at FMCSA and other U.S. DOT agencies.
Martinez nor FMCSA provided a reason for his departure, other than he wanted to be closer to family. Martinez helmed FMCSA for just 20 months, leaving a vacancy at the top of FMCSA that could linger for several years. In November, an FMCSA spokesperson told Overdrive the agency will continue to pursue the hours of service rulemaking.
California law mostly bans leasing owner-operators.
In the first of its kind in the U.S., California in September finalized a law that mostly forbids motor carriers from contracting with owner-operators, impacting chiefly the leased owner-operator model and some independents who operate in the state. Find Overdrive's initial coverage of the law and its impacts at this link.
Notably, fleets like Landstar, Swift, Prime and a litany of other carriers throughout the year began cutting ties with owner-operators based in the state, in some instances offering them the option to move out of state to continue working as an owner-operator or to transition to company driver.
California's law could be a dangerous precedent: New Jersey took up similar legislation in November. California-based trucking groups are fighting back and filed suits against the A.B. 5 law in the wake of its passage. The attorney heading the California Trucking Association's case told Overdrive in December he's prepared to see their legal challenge all the way through to the Supreme Court.
Full ELD deadline passed with little fanfare.
After several major hurdles along the way, the full implementation deadline for the U.S. DOT's electronic logging device mandate hit just a few weeks ago — December 17. By that date, all drivers required to run ELDs must be using fully compliant devices, rather than the less sophisticated AOBRD systems required in the two years prior.
Earlier this year, Overdrive explored the unregulated business of how ELD manufacturers, brokers and others are using the volumes of data produced by ELDs to create new services — and new sources of revenue for themselves. See the Gold Rush for ELD Data series at this link.
Other top picks from the year
As times change, LGBTQ truckers are more open and more confident, but harassment still lingers, as do questions around workplace discrimination. See Overdrive's Ride with Pride series from August.
The U.S. Supreme Court in February ruled in favor of an owner-operator trucker in his case against his carrier, Prime Inc. The nation's high court ruled carriers can't force owner-operators into arbitration to decide legal disputes, even if contracts between the parties include an arbitration agreement.
Do FMCSA's driver coercion prohibition laws have teeth? Senior Editor Todd Dills explored the subject in depth in November, highlighting the five successful cases of coercion complaints brought against carriers — and the tough road that drivers face in filing complaints and ultimately holding carriers, shippers and brokers accountable for pressing them to break federal safety laws. See the "Cracks in the System" series at this link.
Efforts for a nationwide driver shutdown fail to materialize: Coalescing around Facebook groups like "Black Smoke Matters," among others, drivers in January began calling for an organized nationwide driver work stoppage for April 12. Other than a few isolated protests, however, participation was seemingly limited, and protest organizers said they planned to pivot their efforts in the wake of the lackluster turnout. The most successful related effort was staged in Indianapolis in February, where an estimated 75-100 truckers circled the I-465 loop in a "slow roll" protest, one of many to follow around the country as preview for the planned April 12 shutdown.
Truckers' rights: In a new series on Overdrive this year, we filed common questions about driver legal issues with attorneys — and published their responses in a monthly segment dubbed "Trucking Law." See all entries at this link. Most popular? Refusing to drive due to weather; what works as personal conveyance; drug and alcohol regulations; and gun rights on the road.
Got your ears on? Overdrive's Todd Dills hit top industry issues and talked to dozens of drivers in his weekly installments of the Overdrive Radio podcast. Listen to a recap of the year's top podcasts at this link (posted Dec. 27), and hit this link to check out all Overdrive Radio episodes. Find the podcast on iTunes, Soundcloud, Stitcher, Google Play, Spotify, PocketCasts or wherever you listen.
Tennessee owner-operator wins 6th annual Trucker Talent Search: Taylor Barker, an owner-operator leased to Heniff Transportation, won the 2019 Overdrive-Red Eye Radio Trucker Talent Search with a rendition of the Zane Williams' song "While I Was Away", which he performed live at the Great American Trucking Show in Dallas in August. Hear his performance via the Overdrive Radio entry at this link, along with those of finalists Ken Freeman and Jason Henley. Also, hear excerpts from Barker's recording session (the contest's prize) at this link.
'There's no driver shortage': Summing up a report from two economists (one of whom is a veteran researcher at the Department of Labor) on the notion of a "driver shortage" — There's not one. See coverage of the original report from March at this link, and more from a September address from one of the report's authors at this link.
Parking and booting: Through a series consisting of articles and podcasts in recent months, Overdrive's Todd Dills examined "the truck booting trap" — and what some truckers and authorities are doing to combat the growing problem around booting occupied vehicles, particularly in light of the parking crisis plaguing the industry.
DOT boss Chao faces ethics scrutiny: After reports from The New York Times and Politico revealed allegations that Transportation Secretary Elaine Chao had abused her post as head of DOT for personal gain and for the benefit of her family's maritime shipping company, House Democrats opened an ethics investigation in September. Chao has denied any wrongdoing.