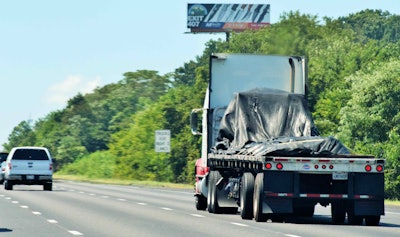 Per-mile rates on the spot market are forecasted to decline 18 percent in 2019 compared to 2018, according to analysts at freight research group FTR, as freight growth has stalled and market conditions have softened over the past 8 months.
Demand for truck service is "slowing substantially," said Avery Vise, FTR's vice president of trucking, on Thursday in FTR's monthly State of Freight webinar, and the slower market is translating to weaker rates. "But let's be clear, that's coming after a couple of very strong years," for both spot market and contract rates, said Vise. He said FTR projects contract rates to mostly hold flat, despite the decline in spot market activity.
Lingering trade disputes with China prompted a wave of imports last October, said Todd Tranausky, FTR's vice president of rail, to get ahead of a new tariff deadline imposed by the Trump Administration. That spike was then followed by a lull in imports, he said, leading to some of the decline in freight movement seen in recent months.
An escalation in trade tensions with Mexico — particularly the tariffs threatened by President Trump recently — "would be painful" for the economy, says Vise. "If we did get involved in a trade war with Mexico, the risks are larger than a trade war with China," he said, because U.S. exports to Mexico are much greater than those to China. "The promise that it would grow U.S. goods production is not a sure thing," he said, due to labor costs and labor availability.
Also, don't expect the looming compliance date of the full ELD mandate — Dec. 16, when drivers are required to have fully compliant ELDs, rather than the less sophisticated AOBRD systems — to have the same impact on capacity and rates as the original ELD hurdle in December 2017.
In most cases, carriers will likely need to only update their software to comply, rather than change their physical devices. There could "possibly [be] some temporary issues," he said, "but probably nothing close to the initial phase."
Tangentially, Vise noted that more than 500 violations a week are issued for lack of compliance with the ELD mandate, meaning likely thousands of drivers are still operating absent an electronic log. "We know that only a fraction of trucks are inspected in any given year. If we're seeing 500 violations a week, [that means] we actually have thousands of trucks still not compliant with the ELD rule."
"Is it enough to affect the market?" he said, relative to if those trucks do adopt an ELD and comply with the mandate. "I would say probably not, but we shouldn't kid ourselves that ELDs have totally eliminated non-compliance with hours of service rules."
Also yet unclear is how the coming CDL Drug & Alcohol Clearinghouse, slated to take effect in January, will affect the driver pool and industry capacity. Depending on the extent to which carriers are currently disclosing positive test results or test refusals in background checks, "the Clearinghouse would correct that," he says, "and that could be a much bigger impact" than anticipated.