Following a banner year in which 148 trucks participated and $40K was raised to benefit the Special Olympics, organizers behind the South Carolina Truck Convoy for Special Olympics are gearing up for this year's event, to be held Oct. 5.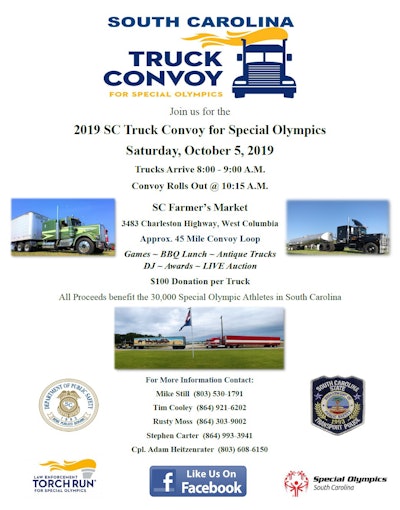 Mark your calendars, organizers says, for what will be a day for the whole family, from games and a "dunk-a-cop" booth to a D.J., a BBQ lunch, antique truck show and various awards.
The main convoy event, as the flyer above makes clear, sets off from the South Carolina Farmer's Market in West Columbia just after 10 a.m. local time. "If you've never been before," organizers says, you're "missing out on a blessing, as we meet some of the young people and hear from some of their parents on how the Truck Convoy impacts their lives. We promote a family atmosphere and would love to have you come be a part of this event."
Vendors sponsoring the event and participating in an expo this year will be set up with tables there, donating a portion of sales of any products to the cause.
Organizers look forward to another banner year and rest hopes on having more than 175 trucks participating this time around.