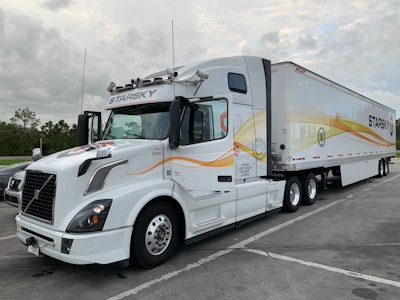 Fully self-driving trucks may be several years away, but autonomous technologies are already being deployed that change the role of the driver.
Starsky Robotics, having successfully completed a 10-mile run in Florida without a person in the cab in June, will lead a discussion at the Great American Truck Show in Dallas about how they see drivers' jobs changing as 10-mile tests evolve into many hundred-mile deliveries in the months and years ahead.
GATS will be held Aug. 22-24 at the Kay Bailey Hutchison Convention Center in downtown Dallas. The Starsky panel will be held from 3:15-4:15 p.m. at the Hall D Stage on Thursday, Aug. 22.
The autonomous strategy currently being deployed by Starsky Robotics, who also hauls for-pay freight using three dozen standard human-driven units and three autonomous capable trucks like the one used in the June pilot run, includes a human driver that handles the first and last mile from a remote location, while letting technology – like software and a combination of radar and camera sensors – handle the highway miles in between.
Those interested in attending the 2019 Great American Trucking Show can register for free online here.