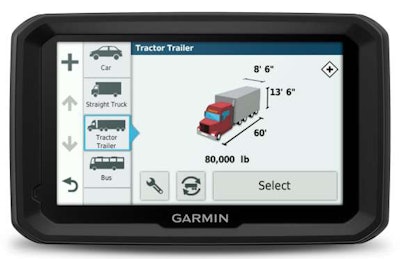 Even the best, most proficient truck driver on the road today needs a little help from time to time, and he can get it from some of today's top technologies.
Garmin dēzl 580 LMT-S
Garmin's dēzl 580 LMT-S navigator has a bright 5-inch screen and is loaded with features to make your driving day as stress-free as possible. They include:
• Voice-activated hands-free navigation that allows you to speak to the dēzl 580 LMT-S GPS Navigator, and it responds while your hands remain on the wheel;
• A trip planner that lets you create multiple-stop routes;
• Break planning with notifications for parking, as well as nearby food, fuel and rest areas;
• The ability to sync your smartphone for hands-free calling with the unit's microphone and speakers;
• Detailed maps for North America that include truck-related restrictions such as bridge heights, dangerous curves, weight limits and related information for most highways;
• The ability to locate services you need, such as truck stops, weigh stations, parking, lodging and Wi-Fi service;
• A truck and trailer services directory that lists more than 30,000 repair and service locations in the United States and Canada; and
• Service history log that lets you record the dates and type of service performed.
The dēzl 580 LMT-S also has Active Lane Guidance that uses voice prompts and brightly-colored arrows to indicate the proper lane needed for your route. Its spoken Garmin Real Directions uses recognizable landmarks, buildings and traffic lights rather than hard-to-see or nonexistent street signs.
RoadPro Qi chargers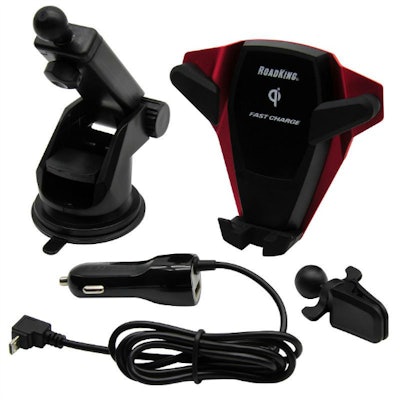 RoadKing, part of the RoadPro Family of brands, introduced two wireless charging devices that fit with truck drivers' on-the-go lives.
The all-new Qi-charging mount is suited for Qi-enabled smartphones and provides a solid metal construction with adjustable arms to securely hold your phone in place. It mounts to your truck's dash, window or air vent.
RoadKing's heavy-duty universal mobile Qi-charging pad features a nonslip rubberized coating and cradles your phone to keep it secure while charging.
Both options provide Fast Charge10W, meaning quick and convenient charging at your fingertips.
Skullcandy Ink'd wireless headset
Skullcandy's Ink'd wireless headset is a lightweight flexible collar-style Bluetooth headset that provides good quality sound while remaining comfortable to wear. It pairs with your smartphone to make and receive calls and also delivers music.
An eight-hour rechargeable battery lets you listen longer, and the built-in mic and remote let you take calls and control your music without having to reach for your phone. It has a 30-foot Bluetooth range.
The low-profile Ink'd wireless is comfortable enough to wear all day. Skullcandy's Supreme Sound and a noise-isolating fit allow Ink'd to deliver clear audio. The flexible collar packs up to one-third its original size for easy storage in a pocket or glove box.
TomTom Trucker 620 GPS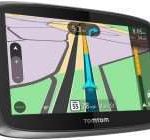 With built-in WiFi and Bluetooth connectivity, the TomTom Trucker 620 GPS delivers its suite of services via voice control, meaning you keep your hands on the wheel but still get your smartphone's messages and allows you to make calls.
Here's how the Trucker 620 delivers:
• Access Siri or Google Now using the device's built-in microphone.
• Locations for parking, truck stops, travel centers, fuel stations, restaurants and service centers.
• Customized routes for your truck's specific dimensions, weight, cargo, and maximum speed.
• Smartphone messages read to you from your SMS, and iMessage.
• Alerts for congestion ahead. You'll get notifications that show how far the stopped traffic or accident blackspot points are.
• Lifetime truck maps delivered at no extra cost via WiFi. And, lifetime TomTom Traffic, which tells you how to avoid traffic, both on highways and secondary roads.
The Trucker 620's speaker and microphone deliver quality, hands-free calls. Just connect your phone via Bluetooth, and you'll see who's calling on your GPS's screen. The TomTom Truck 620 attaches to the dash of your truck with an easy to use magnetic mounting device.
LG Tone Platinum Bluetooth headset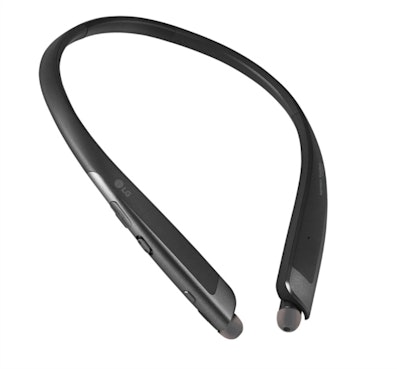 The LG Tone Platinum Bluetooth headset has a multi-layer speaker unit tuned by the acoustic masters at Harman Kardon so it delivers unrivaled sound. But it doesn't stop there. With dual MEMS microphones, the Tone Platinum delivers your voice clearly and without distortion.
That means messages — incoming and outgoing — are heard and heard well, reducing the chance of someone misunderstanding someone else, which you can ill afford on the road.
Besides, it looks good and is a joy to wear. It has a low profile and sits comfortably around your neck.
The Tone Platinum features 14 hours of talk time, 18 days on standby, a two-hour recharging time and retractable earbuds.