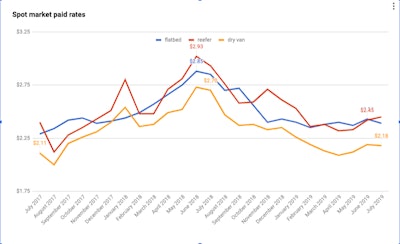 Per-mile rates on the spot market were mostly flat in July, according to monthly rates data from Truckstop.com, with reefer rates climbing a few pennies and flatbed and dry van rates slipping slightly.
Though June was an outlier, through the first seven months of the year, rates on the spot market were in a noticeable downward cycle, declining even through spring — a usual annual inflection point for per-mile spot rates.
Rates typically fall-off between July and October, a lull between the year's two primary freight seasons — spring's flatbed and reefer season and the late fall/early winter holiday-driven freight season.
Reefer rates in July climbed three cents a mile, to $2.45 a mile, according to Truckstop.com data. The segment's per-mile national average was down 48 cents from the same month last  year, but up a nickel from July 2017.
Flatbed rates, meanwhile, fell 4 cents in July, to $2.39 a mile, and were down 46 cents from July 2018. They were up 10 cents from July 2017.
Lastly, van rates slipped a penny in July from June, to $2.18. The segment's average fell 52 cents year over year. Compared to July 2017, van's average was up 7 cents.