Spot truckload freight volume jumped 5% during the week ending August 18, prompting solid gains in the national average van and reefer load-to-truck ratios, said DAT Solutions, which operates the DAT load board network. The number of available trucks compared to the previous week fell by 1%, boosting rates compared to the previous week. Average spot rates in August remain below July averages, however.
National average spot rates, through August 18
**Van: $1.81 per mile, 3 cents lower than the July average
**Flatbed: $2.21 per mile, 6 cents lower
**Reefer: $2.14 per mile, 5 cents lower
Trend to watch: Flat flatbed market
The spot flatbed load-to-truck ratio fell to 11.6 last week after spending the first two half of August above 12. Flatbed demand and rates are tied in part to activity in oil and gas exploration, and there are about 100 fewer active wells now than there were at this time last year. There's simple not as much available freight. At $2.21 per mile, the national average rate is 9 cents lower than the June average, when the load-to-truck ratio was just above 20.
Freight volume has been declining for all modes — air, rail, sea, barge — because of uncertainty around imports and exports. The one exception is trucking, and particularly spot freight. There's actually been a lot of stability in the number of spot loads that are moving, but the problem is that there are also a lot of trucks, including capacity that's shifted away from the flatbed market into vans. That capacity puts a drag on spot market van rates.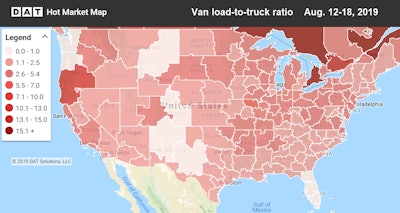 Buffalo van volumes and rates are higher than they were in July, a sign of strong Canadian exports to the U.S.
Market to watch: Buffalo vans
For spot van freight, one major import market stands out: Buffalo, a sign of strong traffic from Ontario and Quebec. Van volumes from Buffalo have been solid all month, and at $2.15 per mile, the average outbound rate is up 5% over the past four weeks. Outbound rates on two key lanes, while lower than average, picked up nicely:
**Buffalo to Columbus, Ohio, rose 12 cents to $1.95 per mile
**Buffalo to Charlotte added 10 cents to $1.96 per mile
Van freight volumes have been stable for nearly all of 2019 but so has capacity. Rates have drifted lower, but if seasonal trends hold, they should pick up again in late September and October as contract carriers enter their busy season and soak up some of that excess capacity.