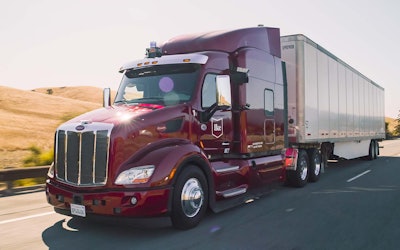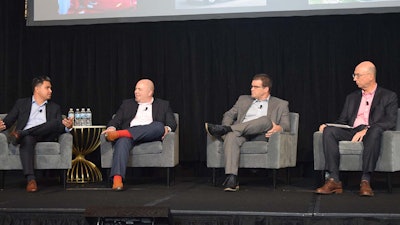 Speaking last week at the FTR Transportation Conference in Indianapolis, Indiana, representatives from three autonomous truck tech developers sought to quell fears about their technology displacing drivers' jobs.
Instead, they offered a rosy outlook for the technology, in which autonomous trucks don't displace drivers but alter the job to boost home time, reduce the grind of spending hours behind the wheel and increase the industry's efficiency.
"We see this partnership between automated trucks and human-driven trucks, [and] in our model, we're actually making truck drivers jobs more valuable and more rewarding," says Morgan Brewster, head of strategy for Ike Robotics, who earlier this year landed $54 million in seed funding for its autonomous retrofit system.
He foresees the driving job as "[shifting] from the really hard over the road long-haul segment and [moving] those jobs to home-daily jobs."
"We don't want to get rid of drivers. They're the lifeblood of our company," says Paul Schlegel, senior vice president at Starsky Robotics, who just this year ran a completely unmanned 9-mile test run in Florida with a remote driver monitoring the driverless run.
Starsky in fact operates as a licensed roughly 50-truck motor carrier and employs 45 drivers. Schlegel, who spent decades working for major fleets like Schneider, Stevens Transport and RoadRunner, says the company "runs OTR freight every day."
Schlegel says Starsky views automation as a career progression for the driving job, not a displacement. His company envisions drivers' jobs as a hybrid role, spending short stints behind the wheel but with much of their work performed at a remote monitoring location.
"Eventually, our vision is that the job of the truck driver is they go into an office that would be much like an air traffic control center," he says, forecasting a model in which drivers would physically drive the truck from an pickup location to the highway, then let the truck drive itself during the on-highway segment while the driver monitors the vehicle from the control center.
Jay Lau, director of transportation for TuSimple, says learning to work with automated trucks is "a natural progression of the job itself." To that end, his company recently partnered with Pima Community College in Arizona to offer an autonomous driving certification program. "These will be highly automated, highly technical vehicles. They will need the expertise" of a driver trained to operate and monitor them, he says.
Like Starsky, TuSimple operates as a motor carrier. "We're out there every day running freight like any other trucking company," he said.
As automated trucks are deployed, drivers will still perform tasks that the truck cannot, the panelists said, such as interfacing with shippers and receivers, driving in city streets and completing inspection-type tasks.
All three panelists foresee a slow and calculated roll-out of autonomous trucks, with deployment being initially focused on certain lanes and geographies that lend themselves to such technology. As automated vehicles "receive acceptance over the next decade, you'll begin to see [them] with more regularity," says Lau. "That fear of that phantom — that [autonomous trucks] will be arriving on a highway near you" isn't a reality, he says — at least not in the near term. He also cited the industry's equipment turnover cycle as keeping any autonomous roll-out restrained.
"You can't rush this technology," says Brewster. "That's why it's going to take a while."
Schlegel said autonomous vehicles are already in use and in testing, so "it's not a question of when will autonomous vehicles will be here," he said. "They're here. We're doing it now. The question is 'when will autonomous vehicles disrupt the industry'? That disruption is going to come in small chunks. It may disrupt in one lane from Dallas to Houston soon. But it may be years before the entire industry has a feel of 'Wow, this has been a huge disrupter in the industry.'"