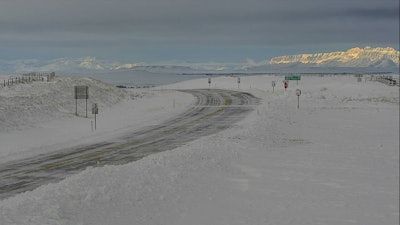 9:30am Here is the @mdtroadreport cam at Pendroy, revealing a bright start to a new day after the blizzard. Plows are out working hard, but check road conditions before you travel as roads remain snow covered and icy. #mtwx pic.twitter.com/3LRw5N8aqL

— NWS Great Falls (@NWSGreatFalls) September 30, 2019
An early-season winter storm that dumped more than four feet of snow in some parts of the Pacific Northwest prompted Montana Gov. Steve Bullock to declare a state of emergency, suspending hours of service regulations for truck drivers assisting in recovery efforts.
Portions of Montana Highway 213, Montana Highway 49 and U.S. Highway 89 near Glacier National Park and the Canadian border remain closed Monday afternoon. All interstates through Montana are open but many are covered in snow.
The National Weather Service in Great Falls, Montana, reports 52 inches of snow fell in Babb, and 48 inches fell in Browning. High winds also created snow drifts as high as seven feet near the town of Bynum, according to AccuWeather.
Updated road conditions in Montana can be found here.
In addition to Montana, which received the brunt of the storm, areas of Washington also received several inches of snow from the storm.
New Weather Graphic Issued: Snow Reports. More info at https://t.co/9noRXI71Sk. #mtwx pic.twitter.com/CdDpld0TTi

— NWS Great Falls (@NWSGreatFalls) September 30, 2019