Even the best, most proficient truck driver on the road today needs a little help from time to time, and he can get it from some of today's top technologies.
Garmin dēzlCam 785 LMT-S GPS truck navigator
Garmin's dēzlCam 785 LMT-S GPS truck navigator has a 7-inch touchscreen and voice-controlled navigation and delivers an array of features the savvy truckers require. And it comes with a built-in dash cam to automatically record your drive and save video of any mishaps that may occur.
The dēzlCam 785 provides Active Lane Guidance voice prompts and brightly colored arrows on the display to indicate the proper lane needed for your next turn or exit. It displays realistic graphics of upcoming exits to ease navigation through complex interchanges. Its Bird's Eye junction view offers details of interchanges, looking down as if from overhead. The dēzlCam also displays your current speed, posted speed limit, the highway or street you're driving on and your expected arrival time at your destination.
The dēzlCam 785 works with Garmin's eLog-compliant ELD (sold separately) for subscription-free hours of service recording with no smartphone or tablet required. But what sets the dēzlCam 785 apart is the "cam" portion of its name. The built-in dashcam continuously records your drive, capturing and saving the footage whenever an incident is detected. Optional GPS overlay provides location, speed, date and time of the incident to verify when and where any events occurred.
Rand McNally OverDryve Pro 8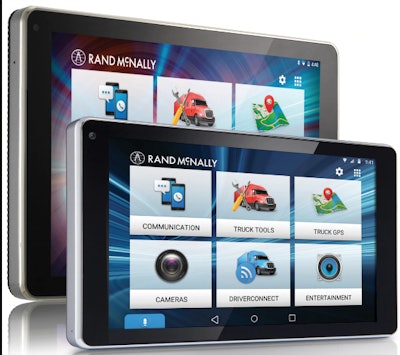 Rand McNally's OverDryve Pro 8 is an all-in-one dashboard device that comes loaded with the navigation tools expected and needed by professional drivers. It's also equipped to provide essential trucking business tools. There also are some whistles and bells to keep a driver connected and entertained along their way, not to mention safe.
With OverDryve Pro 8, you can receive real-time updates about the weather, traffic and fuel prices specific to your route. It also provides advanced lane guidance, toll costs, warnings, fuel logs and points of interest such as truck stops and parking. All are displayed on an easy-to-read 8-inch screen. The Pro 8 is also set up so you can make and receive calls and send texts hands-free, and the OverDryve Pro 8 includes a dash cam to record the road ahead.
The built-in Rand McNally DriverConnect app allows you to also log your duty hours. OverDryve Pro 8 is ELD-ready, allowing you to simply connect the app to the ELD 50 or DC 200 device for a complete electronic logging solution.
Plantronics Voyager 5200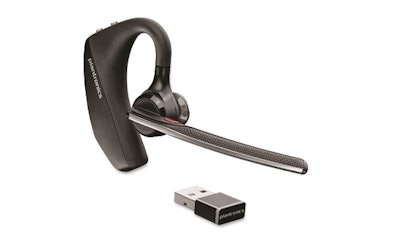 Plantronics' Voyager 5200 headset helps ensure incoming and outgoing messages are heard loud and clear. It features up-to-date noise-canceling technology to make sure all your calls shimmer with clarity.
And the Voyager 5200 does so with comfort. It's lightweight so you can wear it for even your longest trips.
The headset has up to seven hours of nonstop talk from a single charge and up to nine days in standby mode; automatically detects if it's being worn, directing audio where you expect to hear it; features four microphones that work to cancel disruptive background noises; announces the names of incoming callers and waits for you to say "Answer" or "Ignore"; lets you activate Siri, Google Now or Cortana with the touch of a button on the headset; lets you locate your lost headset, change languages or personalize settings and alerts with Plantronics Hub, a free mobile app; and features Bluetooth version 4.1 with an extended mobile range of up to 98 feet.
Skullcandy Indy Wireless Earbuds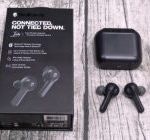 Skullcandy's Indy Wireless Earbuds have 16 hours of battery life and IP55 protection against sweat, water and dust, meaning they're ideal for the driver who has to be out in the elements and not just in their truck's cab.
The earbuds offer quick and easy Bluetooth pairing with your devices, as well as a pocket-sized portable charging case with a USB micro-charging cable. Just put the earbuds in the case to recharge them up to 12 more hours when you're not using them.
They come with three different sizes of ear gels and a separate removable stability gel to ensure a proper fit.
Howes Diesel Defender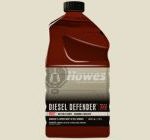 Proper lubrication of the fuel system will improve your fuel economy and restore lost power by maximizing the amount of fuel for complete combustion. There are several products on the market that help maintain clean injectors and lubricate fuel.
One is Howes Diesel Defender, which uses a proprietary IDX4 detergent to clean the fuel system and injectors. It also takes lubricity to the next level by adding up to 2.5 times more than previous injector cleaners.
Diesel Defender also is 100% petroleum-based and alcohol-free. That's important because alcohol can dry out seals and gaskets. It also emulsifies water, which is important for the wellbeing of your truck's engine.