Trucking news and briefs for Thursday, Oct. 17, 2019: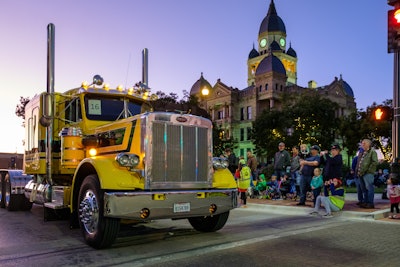 Peterbilt Pride and Class Parade raises more than $20,000 for United Way
Peterbilt, in its fourth annual Pride and Class Parade in downtown Denton, Texas, on Oct. 11, raised more than $20,000 in donations for the United Way Denton County campaign. Peterbilt invites owners of 50 Peterbilt trucks from across the U.S. and Canada to showcase their customized trucks in the annual parade.
"The first Pride and Class Parade in 2016 was such a success with the community and Peterbilt employees that it became an annual event," said Jason Skoog, Paccar vice president and Peterbilt general manager. "This year, we saw a nearly ten-fold increase in donations raised to support United Way Denton County compared to the 2016 event. We are honored by this opportunity to give back to Denton and the local community."
Pete delivers first electric medium-duty rig
Peterbilt on Wednesday delivered the first of six battery electric Model 220EV to PepsiCo's Frito-Lay division for use at its Modesto, Calif., Zero- and Near-Zero-Emission Freight Facility Project.
Peterbilt's Model 220EV was introduced at CES in January 2019 and now joins the Models 579EV and 520EV in customer field trials. With the addition of Frito-Lay's Model 220EV, Peterbilt will have 15 battery electric trucks in three applications – city delivery, regional haul and refuse – "in customers' hands running real routes and collecting real world validation data," said Paccar Vice President and Peterbilt General Manager Jason Skoog.
The zero-emission 220EV is powered by two battery packs with a total capacity of 148 kWh and a Meritor Blue-Horizon two-speed drive eAxle. With a range of more than 100 miles and a recharge time of one hour, it's an ideal option for local pick-up and delivery operations.