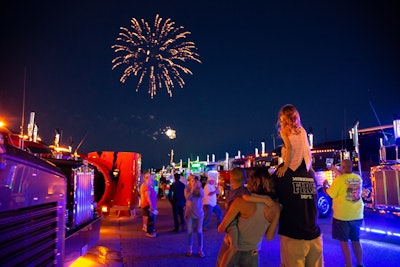 Two companies that use CDL holders to haul and set up fireworks displays during the Independence Day holiday period each year are petitioning the Federal Motor Carrier Safety Administration to allow their drivers to drive beyond the 14th hour after coming on-duty.
In their request, Illumination Fireworks Partners and Ace Pyro asked that drivers of its 60 commercial vehicles be allowed to exclude off-duty and sleeper-berth time of any length from the calculation of the 14 hours.
The companies say the drivers would still not be allowed to drive after accumulating 14 hours of on-duty time following 10 consecutive hours off-duty and would still be restricted to the 11-hour driving limit and the 60- and 70-hour on-duty limits. The two companies have been operating under the same exemption since 2016.
The request states that complying with the 14-hour rule "would impose economic hardship on cities, municipalities and [the companies]," adding that most fireworks shows would require two drivers to comply with the rules, increasing the cost of the fireworks display.
Drivers operating under the exemption would drive no more than 150 miles from the distribution point to the fireworks display site, the request notes.
The exemption would be effective through the 2024 Independence Day period, which runs from June 26 through July 8 each year.
Comments on the request will be accepted for 30 days beginning Wednesday, Oct. 23, at www.regulations.gov by searching Docket No. FMCSA-2019-0180.