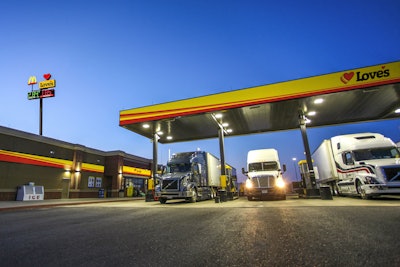 Trucking news and briefs for Tuesday, Oct. 22, 2019:
Hankook tires now offered at Love's
Hankook Tire is now offering some of its truck and bus radial products at Love's Travel Stops, including Speedco and Love's Truck Tire Care locations. The company's e3 MAX AL21, e3 MAX DL21, and e3 MAX TL21 tires will be available at Love's, offering steer, drive and trailer tires.
As part of the partnership, Hankook and Love's are offering savings of up to $110 on a set of two Hankook steer tires and up to $240 on a set of eight Hankook drive and trailer tires at the more than 350 Love's locations across the United States. A purchase of the two Hankook steer tires also includes a tire balance.
Dogs, truckers paired via Mutts4Trucks campaign
Mobil Delvac and Pedigree have teamed up to launch "Mutts4Trucks," a program pairing professional drivers with shelter dogs. It officially kicked off last month at the TravelCenters of America location in Nashville, Tenn., with a dog-adoption event and appearances by country music artist Cassadee Pope and the Youtube couple behind TheCraftyTrucker channel.
At the event, truckers were able to adopt a dog from the Nashville Humane Association as a ridealong companion. Drivers also received a car-safe harness, leash, food from the Pedigree brand, and more. Amber Carlton-Wise, a truck driver with Werner Enterprises who had been hauling for about a month at the time, was among those who took part. "I'm lonely, sometimes I get bored, or when I go home on home time I don't know what to do because I'm so used to trucking now," she said. "So I said I have all this time and I got love — everyone's got love to give — so I'll use that love for a pup."
Mutts4Trucks plans to follow the journeys of several truckers and their new dogs while on the road. The program will illustrate the impact on the emotional and physical well-being of both the drivers and their adopted pets while on the road together. Access more about the program via Mutts4Trucks.com.
Magnum Trailer & Equipment lowers accessories pricing
Upgrades to Magnum Trailer & Equipment's manufacturing process has allowed the company to reduce prices on a number of its accessories, Magnum announced this week. The company says reduced production time has allowed it to lower the cost of select moose bumpers, boxes, fenders and cab guards.