Trucking news and briefs for Monday, Oct. 21, 2019:
Overnight lane closures set for I-20/59 in Tuscaloosa, Alabama
Alabama Department of Transportation crews will close the right lane of I-20/59 Eastbound on the bridge over McFarland Boulevard (exit 73) from 6 p.m. to 6 a.m. on Oct. 22-24.
All eastbound traffic will be required to use the left lane and will not be able to access exit 76 during the closures. The work is part of a project to add lanes from near exit 73 to exit 77 and replace the bridge at exit 73.
Konexial, provider of My20 ELD, acquires Axle Technologies' ELD roster
Axle Technologies' roster of electronic logging device/telematics customers has been acquired by Konexial, provider of the My20 ELD. Axle, based in Jersey City, N.J., has been in operation 2016, offering a previous-generator automatic onboard record device (AOBRD), which must be upgraded to the ELD mandate's specifications by Dec. 17 this year. Konexial, the company says, will convert all the Axle devices to ELD specs by the deadline.
"We were very impressed by both the organization and customer roster that the Axle team developed, and felt that their device would be a perfect fit with the Konexial family of products," said Andy Dishner, Konexial Chief Operating Officer. "This transaction will expand Konexial's roster of ELD customers while converting Axle customers to telematics technology well in time for the AOBRD deadline."
Following the integration with Konexial, data from Axle devices can be used to dynamically match up drivers who have extra hours and capacity with available loads from shippers via Konexial's GoLoad dynamic load matching platform. Loads are matched based on location, direction, hours of service, and economic criteria.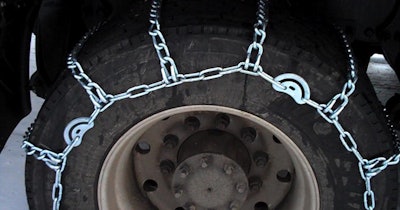 ATBS' state chain laws directory
For the October 2019 installment on its Knowledge Hub blog at the company website, owner-operator business services firm ATBS shared a comprehensive summation of winter chain laws for states around the nation, "Everything you need to know about chain laws."
Wintry weather has already prompted closures and chains-required events in a variety of areas north and west, and the state of Colorado's requirement for having chains onboard is in effect as of September 1 every year. As ATBS notes, "From September 1 through May 31, all trucks must carry sufficient chains on I-70 when traveling between mile marker 259 outside Golden, Colo., and mile marker 133 in Dotsero. If you get stopped and do not have chains on your truck, the fine is $50 plus a surcharge of $16."
Broad forecasts for this coming winter season are for a warmer, wetter weather, generally speaking, which could result in more heavy snow events across the northern tier of states.