Freight volumes rose in a handful of major markets, but the number of spot load postings fell 5% nationwide, and truck posts dipped 1%, during the week ending Oct. 22, said DAT Solutions, operator of the DAT electronic marketplace for spot truckload freight otherwise known as DAT load boards.
National average spot van, refrigerated, and flatbed rates were mostly unchanged compared to the previous week, an indication that capacity mostly met the demands that exist for shippers' freight. For the month, rates thus far have ticked slightly down for vans and reefers.
National average spot rates for the month of October (through the 22nd)
**Van: $1.81 per mile, 3 cents lower than the September average
**Flatbed: $2.20 per mile, unchanged compared to September
**Reefer: $2.12 per mile, 4 cents lower
Trend to watch: Import traffic on the move?
Available load counts out of two major West Coast markets were a sign that import traffic is starting to build. The Los Angeles load-to-truck ratio hit 4.1 last Friday after starting the week at 2.5 (neutral) and dipping as low as 1.8 on Tuesday. Volume from Seattle also increased, and in fact Seattle is the only major van market where rates are higher over the past four weeks. The outbound rate gained 5 cents to $1.58 per mile. Two key lanes paid better, though one continued to underperform generally speaking:
**Seattle to Salt Lake City, up 7 cents to $1.94 per mile
**Seattle to Los Angeles, up 6 cents to $1.36 per mile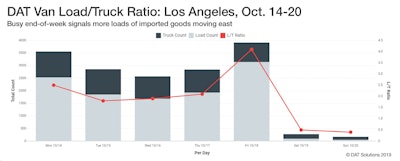 Market to watch: Nogales, Arizona
A combination of produce from Mexico and strong domestic agricultural shipments from California, Florida, Texas, and the Upper Midwest has pushed spot reefer volumes 9% higher over the past four weeks. Reefer volumes from Nogales, Arizona, increased 68% compared to the previous week and the average outbound rate rose 7 cents to $1.75 per mile.