Trucking news and briefs for Wednesday, Dec. 11, 2019:
FMCSA updates ELD FAQ as final transition deadline looms
With the AOBRD-to-ELD transition deadline quickly approaching, the Federal Motor Carrier Safety Administration has updated its ELD frequently asked questions page by adding a search function, as well as sorting the questions by categories. The deadline to make the switch to ELDs is Tuesday, Dec. 17.
Beginning on that date, drivers must be using self-certified ELDs that are registered with FMCSA to record their hours. These devices must meet all of the specifications in Parts 395.20 through 395.38 in FMCSA's rulebook, some of which did not apply to AOBRDs.
Drivers who do not make the transition risk being placed out-of-service in the event of an inspection.
Overdrive resources on the transition are available via feature coverage from earlier in the year. Follow this link for the beginning of that coverage.
Louisiana truck stop turns camel's unfortunate encounter with a human's bite into marketing opportunity
The Louisiana-headquartered KATC ABC affiliate reported last week on a relatively new billboard viewers had spotted on I-10 near Gross Tete, La., home of the Tiger Truck Stop, now itself home of a dromedary named Caspar.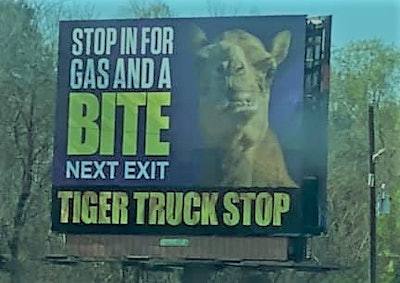 The billboard, shown above, shows the stop poking fun at its own recent notoriety. Attacked by animal-rights activists for years for its display of a series of live tigers, the Tiger Truck Stop's latest appearance in the news came care of a visitor whose dog managed to into the current resident camel's enclosure. When the dog's owner entered the enclosure to coax the dog out, camel Caspar sat on the woman. She bit the dromedary's testicles to coax the animal off.