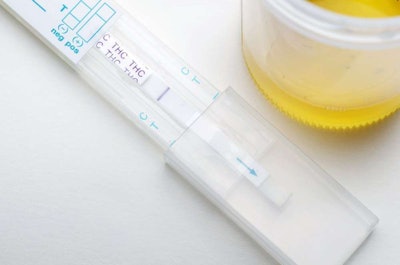 Trucking news and briefs for Dec. 30, 2019
FMCSA to double random drug-testing rate in 2020 after rise in positives
The U.S. DOT announced it will increase its random drug testing rate in 2020 to 50% — meaning that carriers will be required to perform random drug tests at a rate equivalent to half their number of drivers. This includes the number of leased owner-operators a carrier contracts with. For owner-operators in a testing consortium, the annual rate will rise the same fashion from a fourth to half the number of operators.
The Federal Motor Carrier Safety Administration published a notice Friday, Dec. 27, announcing it would be re-instituting the 50% testing rate due to a slight uptick in positive drug tests in 2018. When the rate of positive drug tests crosses the 1% threshold, FMCSA is required by federal law to institute the 50% random testing rate. The rate hit 1% in 2018, according to FMCSA's annual survey of motor carrier drug testing results.
The random testing rate had been at 25% in 2017 and 2018. FMCSA estimates that the change will mean 2.1 million random tests will take place in 2020 and cost an extra $50 to $70 million.
Route-planner integrates ELD data for Geotab device users
A new custom interface between Paragon Software Systems' route-optimization tools and the Geotab telematics systems provider allows users to import electronic logging device data into Paragon with a simple mouse click. Newly available to Geotab and Paragon users in the Geotab Marketplace of custom software, the tool gives managers with fleets of all sizes the ability to easily compare drivers' legally available hours with actual hours driven, reducing the risk of hours of service (HOS) violations, the companies say. That also allows for the use the up-to-date availability information for each individual driver during the freight planning process.
New KW full-service dealership in Mankato, Minn.
To meet the growing local and through-truck demand, Rihm Kenworth has opened a new 28,000 square-foot full-service and leasing facility in Mankato, Minn.
The facility is located approximately 80 miles southwest of Minneapolis, at the intersection of U.S. Highways 14 and 169.
Rihm Kenworth is a family owned and operated Kenworth dealer since 1932, operating seven full-service Kenworth dealerships in Minnesota and Wisconsin.