Spot truckload rates gained a penny or two last week and load-to-truck ratios inched higher, indicating more demand for capacity, said DAT Solutions, which operates the DAT load board network, though rates were still down from January averages.
National average spot rates for the month (through Feb. 23)
**Van: $1.79 per mile, down 8 cents from the January average
**Reefer: $2.10 per mile, down 14 cents
**Flatbed: $2.14 per mile, down 3 cents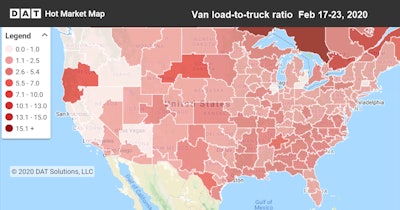 Trend to watch: Southern produce
Although average rates were lower on 37 of DAT's top 72 reefer lanes, the national average reefer load-to-truck ratio rose slightly from 3.7 to 3.8. There's been some improvement down South, where mild weather means produce harvests are starting, creating more demand for truckload services across all three equipment types.
Miami and Lakeland, Florida, are heating up as origin points for for reefer freight, as are Dallas and McAllen, Texas, and the Tucson market in Arizona. McAllen and Tucson are popular border crossings for imported produce from Mexico. Key reefer lanes last week:
Miami to Atlanta: $1.84 per mile, up 8 cents
Lakeland to Charlotte: $1.65, up 7 cents
Tucson to Los Angeles: $2.23, up 5 cents
Market to Watch: Los Angeles vans
With national average van load-to-truck up last week, ratios are particularly strong in the Los Angeles market, where there are plenty of opportunities to haul freight. Unfortunately, inbound and outbound rates are sagging. For instance, last week Los Angeles to Chicago dropped 5 cents all the away down to $1.28 per mile while Chicago to L.A. lost 3 cents to $1.40. L.A. to Atlanta averaged $1.40 a mile, down 6 cents, and the return slipped 3 cents to $1.33.
Given effects of the coronavirus on shipping activity from China, predictably, imports are down at the Ports of Los Angeles and Long Beach: less freight is crossing the Pacific from China, where factories extended their Lunar New Year's closures due to quarantines and travel restrictions. It may be weeks before we see the impact of cancelled or delayed container-ship sailings.
Seasonally, we're in the month that is usually the low point for spot rates during the year. The national average van rate in February is the lowest since May 2019, when it was also $1.79 a mile. However, the line-haul average rate (minus a calculated average surcharge) at that time was $1.47, 4 cents lower than where we are now. Last year's dip in May was an atypical pattern, likely due to excess capacity.