Spot truckload rates last week moved in line with seasonal expectations, and load-to-truck ratios inched higher during the final week of February, said DAT Solutions, which operates the DAT load board network. Stable national average spot rates and ratios at this time of year are signs that shippers are emerging from a typical mid-winter lull.
Waiting for them, of course, is uncertainty surrounding the COVID-19 (coronavirus) outbreak.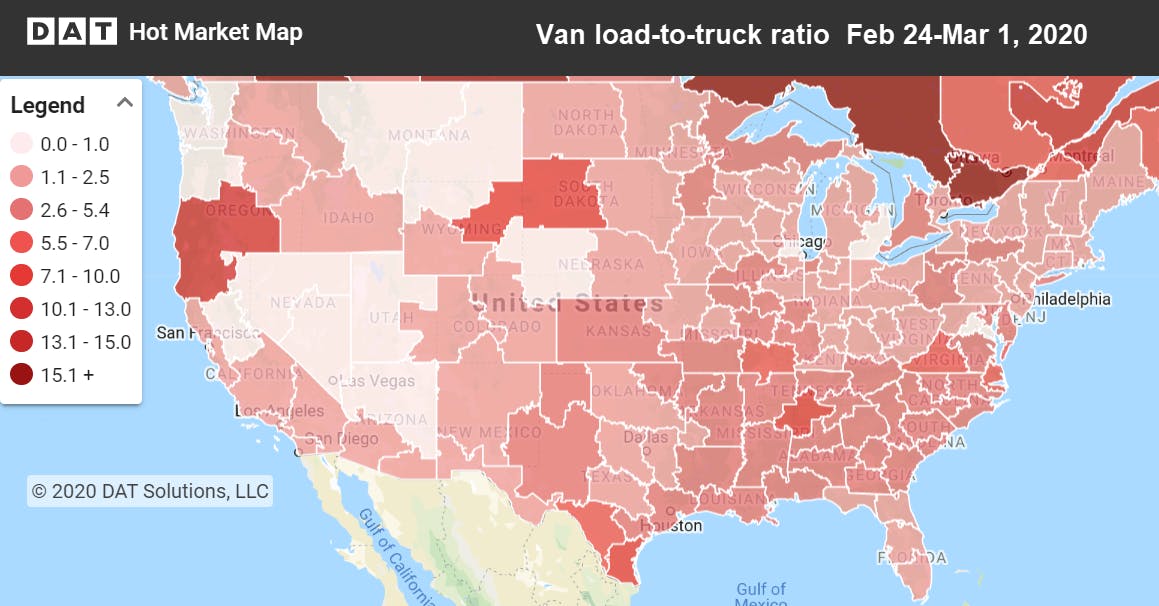 There were no specific indications that supply chain disruptions affected spot truckload freight in a significant way last week. This may change depending on import levels, how quickly Chinese ports can reduce their backlogs, and when those delayed sailings start to arrive here. Stay tuned.
National average spot rates, February
**Van: $1.79 per mile
**Reefer: $2.09 per mile
**Flatbed: $2.14 per mile
Trend to watch: Imports at West Coast ports
Combined, the ports of Los Angeles and Long Beach handle roughly 38% of U.S. container imports. The Port of Los Angeles is projecting a 25% drop in container volumes in February due to the economic impact of the coronavirus as well as lower imports in general, and container ship operators have canceled 40 sailings from Asia to Los Angeles in February and March.
Pay close attention to rates on lanes that originate in markets with large ports, especially on the West Coast. One to watch is the short haul from L.A. to Ontario, California, roughly 60 miles away. If there's subpar demand to move imported cargo from the port area to warehouses and distribution centers located further inland, we'll see it reflected in a 5% to 10% drop in spot truckload rates in the next few weeks.
In the meantime, there's freight in southern California. Load-to-truck ratios in the Los Angeles market ended the month at a high of 2.6 loads per truck for van equipment, although van capacity is plentiful and rates continue to be inconsistent.
Market to Watch: Texas spot freight
One way the international-shipping disruption of the coronavirus outbreak in China could impact truckload freight here has to do with the price of oil.
High crude prices are a boon to trucking companies in markets like Texas because they spur demand for truckload capacity. More demand leads to higher rates. Oil prices have fallen about 20 percent since late January to their lowest point since December 2018, near $50 a barrel, and forecasts are being lowered as the outbreak cuts into travel and other activity in Asia.
When the price of oil drops below the marginal cost of production here in the United States, estimated at $35-$40 per barrel, producers could start to shut down drilling locations. This would reduce demand for domestic ground transportation, especially for flatbeds and rail intermodal equipment, in key markets like Houston, Dallas, and west Texas, leading to looser capacity and declining rates.