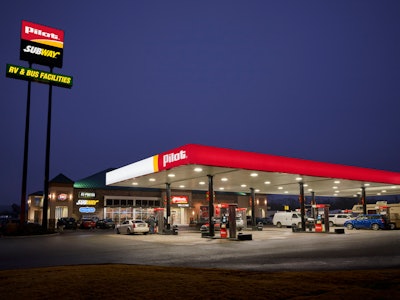 Drivers looking forward to a truck stop buffet or friendly sit-down service are in for temporary disappointment at certain locations.
The three major truck stop chains say they've instituted new sanitation practices for dining areas and showers to help protect customers during the COVID-19 outbreak.
TA/Petro said it has suspended buffets and soup and salad bars. "However, our restaurants will remain open and all items on our menus will be available both in the restaurant and as to-go orders," a spokesperson said.
NATSO, the trade group representing truck stops, said that many operators have converted sit-down restaurants to take-out only, especially in states that have ordered the closure of sit-down dining establishments.
A Pilot spokesperson says it is more frequently cleaning and disinfecting dining tables and other food contact surfaces. It's also more frequently cleaning restrooms and common areas with disinfectant.
TA/Petro says it is more frequently cleaning showers with hospital-grade chemicals. It's also more frequently cleaning restrooms, doorknobs and other high-risk surfaces. Pilot says it is "cleaning showers after each use with degreaser, disinfectant and floor cleaner."
Love's says it has a COVID-19 task force that's educating employees on best practices. "We've increased cleaning and disinfecting efforts at our locations and increased focus on hand washing for customers and employees by placing additional hand sanitizing stations at our locations," the company said in a statement, which did not specifically address showers. "Additionally, we've removed self-serve condiment stations and are offering pre-packaged condiments. We are also asking customers to use a new Love's cup to get a drink or refill. Customers can fill their personal cup/mug with a new Love's cup and My Love Rewards members can still use a refill credit with a new cup."
"The country's travel centers and truck stops are committed to remaining open and serving America's drivers," says NATSO President and CEO Lisa Mullings. "Fuel retailers are 'essential' businesses that must remain open even if other 'nonessential' businesses are forced to close."