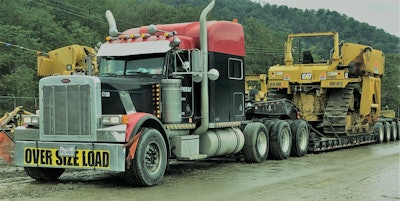 Previously in this series: Big loads, big equipment, big pay: Heavy/specialized hauling explored
Longtime heavy hauler Randy Cunha, who operates Tonto Express out of Conroe, Texas, recommends those considering the niche to start lighter, learn the business and work your way up.
Part of his introduction to heavy/specialized was with a three-axle step deck leased to what was then Dallas Mavis in the late 1980s and, before that, flatbed and van work with Dealer's Transit from as early as 1978. Step decks can be something of a bridge to RGN work, he believes.
In heavy/specialized, "you've got to know the state laws" as it pertains to height, width and weight, when you can run at certain thresholds and when you can't, given varying state/local curfew rules. Such considerations will be key to any owner-operator's evaluation and pricing of available loads.
For owner-operators looking to run with authority, he says, "find a good permit company you can work with," and "don't go with super-heavy stuff right off — you can get the 10-foot-wide stuff real easy." With the permit company, "ask them the hard questions" on permitting costs to shorten the learning curve. He works with California-based Reliable Permit Solutions on most multi-state permitted trips.
To get his footing, Cunha leased to companies "with permit departments who knew all the rules — I absorbed them that way, learning it as you go." Keeping below state and local thresholds for the requirement of escort/pilot-car use can be a way to minimize additional costs and planning necessities, too.
Running the biggest loads: Heavy on planning, equipment, creativity
The Specialized Carriers and Rigging Association's Hauling Jobs of the Year competition showcases the innovation required to pull off the most complex overdimensional hauls. Barnhart Crane & Rigging's 2019 contest-winning move of a 644,000-lb. vessel was one of three such pieces the company moved in December 2018, following planning that began in October. The route: Pocatello, Idaho, to Fort Lupton, Colorado, traveling through Wyoming. A total of 7,667 man-hours of work by all crew went into it.
In addition to the difficulties posed by each state's regulations, the logistical and technical challenges included winter conditions and bridge-crossing restrictions. At the SC&RA symposium in February, representatives detailed their workarounds.
The route through Wyoming that eventually was approved (after plenty analysis by the state bridge department) included four bridges out of 14 total that would be unable to support the weight. To deal with those four, noted company representative Ragan Watson, Barnhart used some common maneuvers — bypassing a bridge via county roads, as well as a "crab steering" maneuver with the modular trailer to spread the load's width as much as possible laterally across the bridge's span. There also were some relatively uncommon ones, such as wing dollies supported with custom-built mounting bracketry on the trailer itself.
The size and volume of increasingly huge pieces of manufactured components has driven the prevalence of similar moves. It's not hard to find one-off instances of trucking innovation on a myriad of the biggest loads, says Erik Thompson of Daily Express.
Owner-operator Cunha sees some fellow independents moving toward these huge logistical challenges. Such moves can require trailer configurations that make for 12-axle-or-more combos, often requiring a full team of people to manage a move.
Next in this series: Harmony in states' permitting parameters inches closer, as fines remain heavy-haul risk