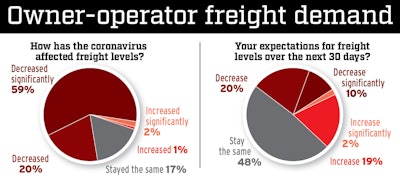 While small fleets and leased operators report continuing severe freight and rate problems related to COVID-19 restrictions, an increasing share is optimistic that conditions will improve soon, based on a recent Overdrive survey.
One in five respondents expect freight levels to increase in the next 30 days, based on results gathered May 14-19. More broadly, 70% expect freight to stay the same or improve. Asked the same question about a month earlier, the same-or-improve total was only 42%.
Nationwide, recent weeks have seen similar signs of optimism as elected officials have loosened quarantine restrictions. Some manufacturers, restaurants, retailers, casinos and others have taken steps toward reopening. Fuel sales have risen, along with reports of increased traffic.
Michigan-based Eagle Express small fleet owner Leander Richmond, like more than a fifth of survey respondents, has been aggressively pursuing new direct lines of business, given widespread mistrust of brokers during the slowdown.
"We were very hard-hit mid-January through last month," Richmond said this week, speaking apart from the survey. His 10-plus truck fleet hauls freight on flatbed conestogas. "Things are trending upward now. Last week was a positive week, and this week is very positive, with normal-paying loads."
Almost all of the survey's 213 respondents were operators with their own authority. Slightly more than half were one-truck operators, leased or independent.
In the most recent survey, 78% of respondents reported either being "totally shut down" or "running far less than usual." That was slightly below the share reporting the same two weeks earlier. Equally gloomy were the responses to the pandemic's effect on recent freight levels: 59% saying "decreased significantly" and another 20% "decreased," among the strongest negative ratings in the six polls over the last two months.
Respondents' comments echoed persistent complaints of rates being too low to turn a profit and brokers exploiting the situation by taking huge commissions on loads. And the woes extend beyond rates, noted one respondent: "Drivers are going broke out here, no help from anyone, truck stops still charge 18 to 25 dollars to park. No showers, no food, at some places, no supplies, mask, gloves, hand sanitizer, no alcohol. Our bills are piling up, BROKERS are stealing from the drivers with LOW RATES."
Only half of respondents say they have applied for either of the two rounds of the federal Paycheck Protection Program. Of those who applied, 46% were approved. The rest were rejected or have not learned of their status.
About one in five respondents have applied for pandemic-related unemployment compensation, which is now available to independent contractors. Of those who applied, 38% were approved.