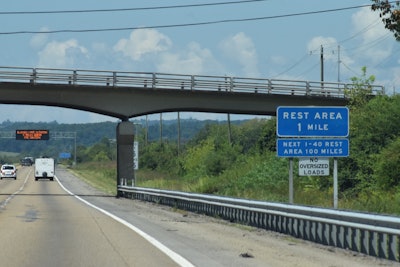 Trucking news and briefs for Monday, June 8, 2020:
Wyoming DOT closing 10 rest areas with approximately 80 truck parking spaces
The Wyoming DOT is set to close 10 rest areas across the state due to budget cuts announced by Wyoming Gov. Mark Gordon. The closures will go into effect June 15.
The rest areas that will close include Lusk on U.S. 18; Guernsey on U.S. 26; Greybull on U.S. 14-16-20; Moorcroft on Interstate 90; Star Valley on U.S. 89; Ft. Steele on I-80; Sundance on I-90; Upton on U.S. 16; and Orin Junction and Chugwater, both located on I-25.
The closure of the 10 rest areas will eliminate roughly 80 truck parking spaces in the state, according to WYDOT Public Affairs Manager Doug McGee.
"Although these rest areas will close, motorists will still have access to facilities in neighboring communities," Reiner said. "Each of the rest areas that are closing are within a reasonable distance of a town that has facilities for the public."
ELD provider adds Drivewyze weigh station alerts to in-cab system
ELD provider DriverTech is now offering Drivewyze PreClear weigh station bypass as part of its in-cab system.
DriverTech offers the DT4000, which features a front-facing dashcam, navigation system and more.
In addition to weigh station bypass opportunities at more than 800 locations in 47 states and provinces, Drivewyze is also providing rest area alerts during the COVID-19 pandemic, giving drivers "open" or "closed" notifications in states that have adjusted rest area parking.