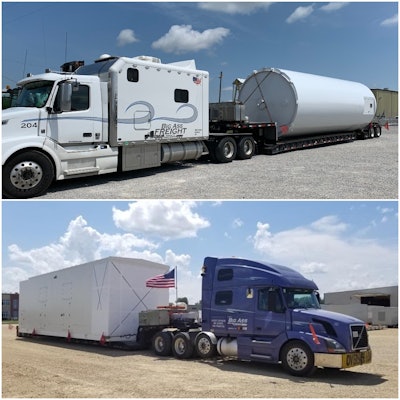 Trucking business news & briefs for Thursday, June 25, 2020:
Factoring competitors team up on 'Pandemic Protection' for new clients
Freight factoring companies TBS Factoring Service and OTR Capital put their competitive interests aside with a limited-time rate and fee waiver to owner-operators and small fleet owners who aren't currently factoring their receivables. The offer, which they're calling the Pandemic Protection Program, is available to new customers and those that are not currently factoring — it's a nonrecourse arrangement, in which the factoring company assumes all the risk of delayed or late payment, with a low 2.5% fee on any invoice processed through the companies.
The companies note that there are no UCC filing fees, no origination fees or hidden costs of any kind, otherwise. Carriers taking advantage of the rate gain access to credit-check and certain other tools available through each company. At the end of term of the promotional rate, Sept. 15, the rate defaults back to 4%, says Jennifer Licktieg, TBS Factoring Service CEO. No minimum volume is required of customers.
As the economy continues to react to COVID-19, the difficulty for small business truckers to assess the health of their customers has increased. Overdrive's recent Cash Flow Crisis series has documented a few such cases.
"With so many of our friends in the trucking community hurting right now, we knew we had to take extraordinary measures to do everything we could to ease their burdens," said Fritz Owens, CEO of OTR Capital.
Recent Overdrive surveys of an audience of mostly independents or small fleets with authority showed cash flow would be a central issue for most throughout the recovery period. Factoring in this context can be viewed not only as outsourcing collections but also part of a risk-management strategy, said TBS' Lickteig. "Factoring now, even when a driver doesn't need it just makes sense in this economy because it takes the risk of non-payment off the table."
Georgia CDL examiner, owner of Alabama CDL school get probation, fines for CDL scheme
A Georgia CDL examiner and the owner of an Alabama CDL school have both been sentenced to probation and fined for their roles in a CDL testing scheme, according to the DOT's Office of Inspector General.
Michael Jordan was a third-party CDL examiner who operated in Columbus, Georgia, and James Welburn was the owner and president of American Truck Driving Academy in Opelika, Alabama. Jordan was sentenced to 36 months of probation, a $10,250 fine, a $100 special assessment and 100 hours of community service. Welburn received 60 months of probation, a $250,000 fine and a $100 special assessment.
Both men previously pleaded guilty to charges related to an investigation that found that in exchange for cash payments from Welburn, Jordan falsified CDL exams for ATDA students.
Arizona expands use of weigh-in-motion tech
The Arizona Department of Transportation has expanded its use of technology that screens moving trucks for weight and identifying information. The state had been using the tech at select rest areas, including McGuireville on I-17, Sacaton on I-10 and Canoa Ranch on I-19. It is now being used at all of the state's commercial ports of entry along I-10, I-40 and State Route 95 in Parker.
"This truck screening system will allow our officers to focus on the commercial vehicles that need our officers' attention," said Jeff Stanhope, deputy director for ADOT's Enforcement and Compliance Division. "It helps us make better use of our resources and efforts while allowing trucks in compliance to go on their way."
The technology uses weigh-in-motion sensors, cameras that read USDOT numbers and license plates, and message signs. An additional feature at the Ehrenberg and San Simon ports of entry on I-10 also identifies commercial vehicles with tires that could be damaged or in need of repair.
As a truck approaches a port of entry, highway signs direct the driver into the right lane. When the truck is a half mile from the port, the weigh-in-motion sensors and cameras capture the vehicle's weight and identifying information and relay it to ADOT Enforcement and Compliance officers at the port. A computer checks the truck's credentials against national and state databases, and if the truck is cleared and within weight limits, the message boards along the highway give the truck a bypass signal. If there is an issue identified with the truck, such as expired registration, federal out-of-service orders or required permits not on file, the signs direct the driver to pull into the port for further inspection.