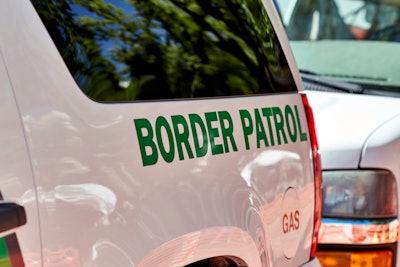 Trucking news and briefs for Wednesday, July 29, 2020:
Truckers busted at border with meth, fentanyl
A trucker was arrested in San Diego last week when more than 300 pounds of illegal drugs were found in a truck at a border crossing checkpoint.
U.S. Customs and Border Protection officers at the Otay Mesa, California, cargo port of entry Thursday, July 23, seized 286 pounds of methamphetamine and 26 pounds of fentanyl hidden in the sleeper cab of a tractor-trailer truck.
The CBP said in a statement a driver arrived at the commercial border crossing with a load of recycled cardboard. Officers referred the truck and driver for an imaging scan and an in-depth examination at the dock, during which they found anomalies in the cab of the truck.
Inside the truck, an officer lifted the sleeper compartment and found two black duffel bags hidden inside. Officers removed 64 cellophane-wrapped packages, 59 of which contained methamphetamine and five that contained fentanyl.
CBP officers seized the narcotics, tractor and trailer. The driver, a 36-year-old Mexican citizen with a valid B1/B2 border-crossing card, was turned over to U.S. Immigration and Customs Enforcement, Homeland Security Investigations and booked into the Metropolitan Correctional Center to face federal charges.
A few days earlier, on July 19, Border Patrol agents at the same port of entry near San Diego seized more than 600 pounds of meth from a tractor-trailer. CBP officers encountered the truck driven by a 31-year-old Mexican citizen with a shipment manifested as "mint leaves and other spices."
During an X-ray exam of the truck, officers identified anomalies in the shipment and sent the truck to a dock for a more intensive examination. CBP agents probed the boxes and discovered a crystal-like substance that field tested positive for the properties of methamphetamine. CBP officers extracted 40 wrapped packages of methamphetamine weighing 614 pounds co-mingled with the green onions.
The driver was turn over to Homeland Security Investigations for further processing. The seized methamphetamine has an estimated street value of $1.4 million. CBP officers seized the tractor, trailer and narcotics.
Penske Truck Leasing adds remote service check-in to app
Penske Truck Leasing has added remote service check-in to its Penske Driver app that allows drivers to maximize social distancing by remotely checking in their trucks for scheduled preventive maintenance or repairs.
"This new addition to the Penske Driver app is part of our ongoing efforts to help keep customers and their drivers connected, safe and informed," said Sherry Sanger, executive vice president of marketing, Penske Transportation Solutions. "Drivers will appreciate both the speed and convenience as well as the additional social distancing this new remote check-in feature affords."
Penske is also positioning associates outside many locations to greet and direct customers to designated parking or pick-up areas. The company has also made changes to its rental reservation, pick-up and drop-off procedures.
Hot Shot's Secret distributed over 500 care packages to truckers
Hot Shot's Secret announced it has distributed more than 500 care packages to truck drivers during the COVID-19 pandemic.
The company began in April distributing the packages, which included a bottle of Hot Shot's Secret Everyday Diesel Treatment, Hot Shot's Secret hand sanitizer, company decal, LSI Magazine and HSS product guide, and a 15% product discount.
The initiative wrapped up with a final giveaway event this month at the company's headquarters in central Ohio on July 1-2, which included a food giveaway from White Castle.