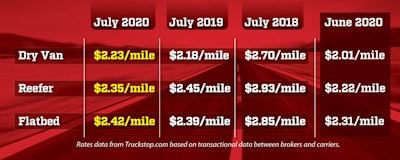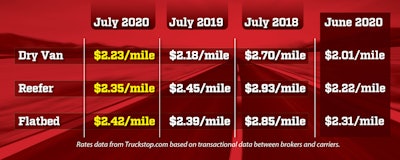 Countering the usual seasonal rates drop off from June to July, spot market rates last month jumped in all three major truckload segments, according to national per-mile rates averages from Truckstop.com, based on transactional data between brokers and truckers that use Truckstop's platform.
Freight demand has seen a steady rebound since late May, as the economy climbs out of the depths of the current recession's hole in April and May. Likewise, the shocks to the supply chain this year have diverted freight from the contract market to the spot market, which has contributed to rates' upward momentum.
Dry van spot rates in July climbed 22 cents a mile on average from June, to $2.23 a mile. That's a 39-cent swing in just two months, since May. It's 5 cents a mile stronger than last July.
Reefer rates in July jumped 13 cents a mile, to $2.35 — a 23-cent gain since April, reefer's most recent low. Compared to last July, reefer rates were down 10 cents a mile on average.
Lastly, flatbed's average climbed 11 cents from June, to $2.42 a mile. July's flatbed average was 21 cents higher than May's and the second strongest since last June. It was up 3 cents a mile from last July.