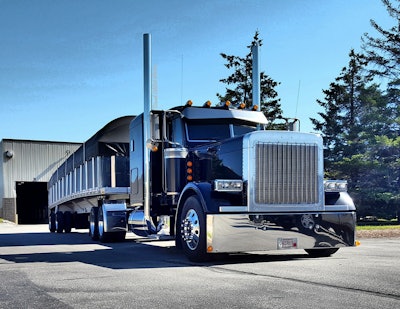 Momentum has seemingly continued for the freight recovery that began in late May, in some ways bucking seasonal trends as spot market freight and rates haven't seen the usual June-to-July drop off. That's despite a resurgence in coronavirus cases since mid-June and major holes in the economy remaining, such as sluggish manufacturing output, a halted entertainment and events sector and record-high unemployment.
Load postings in June and July on popular loadboards have been climbing. For example, load availability on Truckstop.com's board has grown by double-digits in most weeks since late May, with some weeks seeing growth as much as 30% week over week, says Stephen Bindbeutel, the company's director of strategy.
"So far, we've seen things remain healthy," he said last week, citing positive trends in freight demand and rates.
Likewise, DAT's Ken Adamo, the company's chief of analytics, has seen the same on DAT's board. "Volumes peaked higher than we expected, and they haven't come back down as fast or to the level we would have expected," he said.
However, despite that steady freight recovery, data shows the smallest of carriers — those with six trucks or fewer — aren't jumping back into the game at the same pace that freight is returning. It's unclear why that is, with guesses ranging from concern over contracting the virus on the road to robust government relief programs that many owner-operators and fleets took advantage of, thus allowing them to take time off or simply run fewer loads. Or, it could be the case of smaller carriers folding due to the downturn.
Retail and home goods have been predominant players in driving freight demand after the sharp downturn in April and May, with online and in-store shopping steering much of the recovery. Though industrial load volumes on the whole are lagging, flatbed has seen strength, with demand for lumber and other home improvement materials "through the roof," said DAT's Adamo. In addition to home improvement, construction has remained strong, both residential and commercial, which is a key driver of flatbed freight.
The supply chain is in a bit of an upheaval, said Adamo, as freight flow patterns — both in terms of types of freight and geography — have shifted fairly dramatically since the onset of the pandemic. That's diverting freight that typically would be hauled under contract to the spot market instead.
That has buoyed freight demand on the spot market and is putting upward pressure on rates, as is the lack of capacity coming back — that is, a lack of truckers returning to the spot market and posting their trucks on loadboards.
Bindbeutel pointed to Truckstop.com data on truck postings that showed a steady, and somewhat dramatic, downward trend in truck postings on the company's platform. In the week ending July 20, truck postings were down to just shy of 26,000 — compared to the roughly 40,000 truck postings seen three out of the four weeks in April.
Compared to the same early summer weeks in 2019, truck postings were down 16%. They were down 35% from these weeks' averages dating from 2014. Load postings, however, are up 1% compared to 2019 and about 9% higher than the average since 2014.
Early in the pandemic, many owner-operators told Overdrive they were choosing to sit, either because of poor rates or because of concerns about the virus.
Are you still holding back from returning to working regularly? If so, why? Drop a comment below or email jamesj@overdriveonline.com.