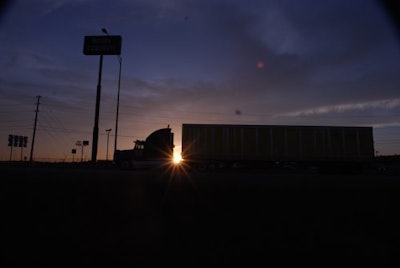 Trucking news and briefs for Tuesday, Aug. 25, 2020
FMCSA suspends HOS regs for emergency relief haulers ahead of Gulf Coast hurricanes
The Federal Motor Carrier Safety Administration's Southern and Western Service Centers on Monday issued an emergency declaration for four Gulf Coast states in response to Tropical Storm Marco and Hurricane Laura. The declaration is in effect for Louisiana, Texas, Mississippi and Alabama for the duration of the emergency or through Sept. 23, whichever is less.
The declaration suspends hours of service regulations for trucks providing direct assistance supporting emergency relief efforts transporting supplies, goods, equipment and fuel into the affected states, or providing other assistance in the form of emergency services during the emergency.
According to the National Hurricane Center, Marco has been downgraded to a post-tropical cyclone, and it is not expected to make landfall along the Louisiana coast as previously expected. As of Tuesday morning, Laura is classified as a tropical storm just below hurricane strength but is expected to become a "major hurricane over the Northwestern Gulf of Mexico on Wednesday," NHC says. Laura is currently forecast to make landfall near the Louisiana-Texas border on the Gulf Coast.
Love's offering discounted inspections ahead of RoadCheck
Love's Travel Stops is offering truck drivers free TirePass inspections and half-priced DOT inspections at Love's Truck Care and Speedco locations on Sept. 7-11 ahead of and during the Commercial Vehicle Safety Alliance's International Roadcheck, scheduled for Sept. 9-11.
Love's is also offering a complimentary visual inspection with the purchase of a tire or an oil change service package.
"Love's Truck Care and Speedco team members want to help drivers be safe and legal on the road and this event aims to help drivers be both of those things," said Gary Price, executive vice president of truck care for Love's. "We know time is important to professional truck drivers, so by having the TirePass inspection completed – including mud flap and light inspections – while they fuel up, we can save them time and prepare them for CVSA Roadcheck."
Love's TirePass is an in-lane tire inflation and assessment service, available on the inside diesel lane at Love's Travel Stops across the country.
Self-driving startup Waymo begins running trucks out of Dallas
Self-driving truck startup Waymo announced Tuesday that it will begin operating its trucks from its Dallas, Texas, facility this week.
The company earlier this year started mapping highways in New Mexico and Texas in preparation of the arrival of its trucks, which will be testing along interstates 10, 20 and 45, "driving the interesting and promising commercial routes across the state," the company said. "In addition to further advancing our trucking capabilities, we're excited to explore how our tech might be able to create new transportation solutions in Texas, which has a high freight volume and is a favorable environment for deploying AVs."
Waymo, formerly Google's self-driving car project, uses a combination of cameras, Lidar and radar on its semi rig that have been validated by its car program but customized and tweaked to facilitate the unique challenges presented by a 40-ton, articulated, 75-feet long vehicle.
The Waymo Driver autonomous platform has logged more than 20 million miles on public roads and 15 billion miles in simulation.