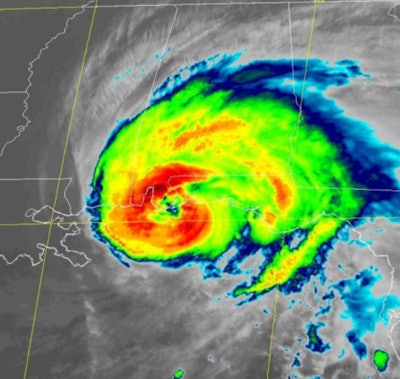 Trucking news and briefs for Wednesday, Sept. 16, 2020:
FMCSA suspends hours regs for relief haulers along Gulf Coast, I-10 closed at AL/FL line
Hurricane Sally made landfall as a Category 2 storm just before 5 a.m. Central time Wednesday at Gulf Shores, Alabama, with high winds and heavy rain affecting areas from around the Mississippi/Alabama border through much of the Florida panhandle.
On Tuesday, the Federal Motor Carrier Safety Administration issued a regional emergency declaration for Alabama, Florida, Georgia, Louisiana and Mississippi, allowing carriers providing emergency relief in the affected areas to waive the hours of service regulations.
Specifically, the waiver applies to carriers providing direct assistance supporting emergency relief efforts transporting supplies, goods, equipment and fuel.
The agency also waived Temporary Operating Authority Registration fee for carriers requesting temporary authority to provide direct assistance to emergency relief efforts.
According to the National Hurricane Center, the slow-moving hurricane is expected to dump 8-12 inches of rain with higher localized amounts possible from west of Tallahassee, Florida to Mobile Bay, Alabama. "Storm totals of 10 to 20 inches to isolated amounts of 35 inches is expected," NHC said in its latest update Wednesday morning. "Historic and catastrophic flooding is unfolding. In addition, this rainfall will lead to widespread moderate to major river flooding."
Flooding in the region has forced the closure of I-10 near the Alabama-Florida state line. A number of other highways along the Florida panhandle, including portions of U.S. Highway 98 and Florida Highway 281. A section of the Pensacola Bay Bridge, also known as the Three-Mile Bridge on U.S. 98, was damaged in the storm, and a section of the bridge is now missing. Check Florida 511 for the latest highway closures.
Flooding issues at the FL/AL State Line on I-10. Preparations are being made to detour Eastbound I-10 traffic at Exit 49 BBE. Traffic should take BBE South to US 90 East to enter Florida once detour is in place until flooding conditions improve.

— ALDOT Mobile Area (@ALDOTMobileArea) September 16, 2020
Daimler settles diesel van emission cheat allegations for $1.5B
The U.S. Department of Justice, Environmental Protection Agency (EPA), and California Air Resources Board (CARB) this week signed off on a proposed settlement with German automaker Daimler AG and its American subsidiary Mercedes-Benz USA, LLC, resolving alleged violations of the Clean Air Act and California law associated with emissions cheating.
Under the settlement, lodged with the U.S. District Court for the District of Columbia, Daimler will recall and repair the emissions systems in Mercedes-Benz diesel vehicles sold in the United States between 2009 and 2016 and pay $875 million in civil penalties and roughly $70.3 million in other penalties. The company will also extend the warranty period for certain parts in the repaired vehicles, perform projects to mitigate excess ozone-creating nitrogen oxides (NOx) emitted from the vehicles, and implement new internal audit procedures designed to prevent future emissions cheating.
The recall program and federal mitigation project are expected to cost the company about $436 million. The company will pay another $110 million to fund mitigation projects in California. Taken together, the settlement is valued at about $1.5 billion.
The settlement addresses allegations made in separate civil complaints filed by the United States and CARB in Washington, D.C., that from 2009 to 2016, Daimler manufactured, imported and sold more than 250,000 diesel Sprinter vans and passenger cars with undisclosed AECDs and defeat devices programmed into the with BlueTEC II emission control system software. These devices cause the vehicles to produce compliant results during emissions testing, but when not running a test, the vehicles' emissions controls perform differently – and less effectively – resulting in an increase in NOx emissions above compliant levels.
TA holding fundraising campaign for St. Christopher Fund
TravelCenters of America is launching its first point-of-sale fundraising campaign that will benefit the St. Christopher Truckers Relief Fund.
Starting Sept. 16, TA-Petro customers will have the option to round up their purchase to the nearest dollar, with 100% of the donated amount going to benefit SCF.
"We're committed to giving back to the millions of professional drivers who call us their home away from home," said Barry Richards, president of TA. "These men and women sacrifice so much for our country, including their own physical health. This point-of-sale campaign provides an easy way for fellow drivers, our other customers and our employees to help those in need."
The campaign will run at participating TA, Petro and TA Express travel centers through Nov. 30. The promotion is not applicable in Mississippi and South Carolina.