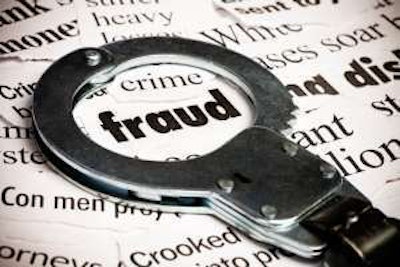 Trucking news and briefs for Tuesday, Oct. 20, 2020:
Four more charged in Louisiana staged-accident fraud scheme
The U.S Attorney's Office for the Eastern District of Louisiana announced Oct. 16 that it has charged four more people in a widespread staged-accident fraud scheme, bringing the total to 32 people charged.
Anthony Robinson, Audrey Harris, Jerry Schaffer and Keishira Robinson, all of New Orleans, were charged in a three-count federal indictment with one count of conspiracy to commit mail fraud and two counts of mail fraud.
The charges stem from a scheme to intentionally stage car cashes with tractor-trailers in order to defraud trucking and insurance companies through fraud, the U.S. Attorney's Office says in a press release.
According to the indictment, an unnamed co-conspirator, Harris, Schaffer and Keishira Robinson allegedly intentionally collided with a tractor-trailer on Oct. 13, 2015, in New Orleans. The co-conspirator was then picked up from the collision site by Damian Labeaud, who pled guilty to a previous indictment in the case. Anthony Robinson, who had allegedly been in Labeaud's vehicle, then got behind the wheel of his own vehicle to make it appear he had been driving at the time of the staged accident, the indictment says.
The passengers were then allegedly referred to an attorney who paid Labeaud and the co-conspirator to stage accidents. All of those named in the indictment were treated by doctors and healthcare professionals at the direction of their attorneys. Anthony Robinson, Harris and Schaffer underwent surgeries, the indictment adds.
According to the indictment, the victim trucking and insurance company paid approximately $4.7 million for the fraudulent claim associated with the staged accident.
Trucker gets Highway Angel wings for saving father, son from burning pickup
Earl Morgan-Heft, a truck driver for Fortrans, Inc., has been named a Highway Angel by the Truckload Carriers Association for freeing a father and son from their burning vehicle following a multi-vehicle crash.
On June 12 on I-90/94/39 near Lodi, Wisconsin, three traffic accidents built one upon the other, resulting in multiple fatalities and injuries. Morgan-Heft was a witness to the third and worst of the three crashes around 6:45 a.m.
He was headed northbound from Madison, and he could see an issue up ahead with road closure signs. He slowed down and stopped with surrounding traffic, then heard a loud bang and saw in his left mirror a tractor-trailer crash into a dump truck at highway speeds. The crash started a chain reaction involving eight vehicles behind him.
"Cars were smoking," Morgan-Heft said. "I saw a pickup that was on fire with survivors in it. I yelled over to them, 'I'm gonna get you out!'"
He started to run back to his truck to get his fire extinguisher, but he realized there wasn't enough time as he started hearing popping noises from the pickup. He rushed to the passenger side of the pickup where he saw a young teen, and the teen's father in the driver's seat. With the help of others who stopped, Morgan-Heft was able to pry open the back door and pull the passenger out. He then went and worked to pull the man out of the pickup and get him moved away. Moments later, it went up in flames. Morgan-Heft says the father and son survived.
Morgan-Heft has been driving for 27 years and has worked with Fortrans for 10 years. For his willingness to help, TCA presented him with a certificate, patch, lapel pin and truck decals. Fortrans also received a certificate acknowledging their driver as a Highway Angel. EpicVue sponsors the TCA Highway Angel program.
New port-trucking-focused TMS software
PortPro Technologies introduced its DrayOS web-based transportation management system (TMS) built for an exclusive network of port drayage carriers. The software system enables drayage carriers to automate some of a carrier's non-revenue-generating back-office operations in order to increase focus on the growth of their businesses, the company said.
DrayOS was designed in collaboration with some of the leading container carriers in the country and available in both a light and premium version, accommodating for all types and sizes of drayage carriers.
Automated aspects of data entry reduce the amount of time it takes individuals to enter orders. Dispatchers assign loads from their screen directly to the PortPro driver application (available for iOS and Android devices). The system creates a paperless environment, making the customer invoicing and driver payment process less time-consuming and more immediate. Additionally, PortPro provides each carrier with the ability to give a portal to their customers, with various levels of visibility over their containers, a way to communicate in real time, and a streamlined way to tender loads directly to that carrier.
"We understand that most trucking companies don't have IT departments to implement and manage software," said PortPro CEO Michael Mecca. "Once a carrier has decided to work with PortPro, we basically become the 'tech arm' of their company, whether they have 5 trucks or 500 trucks."
PortPro will discuss drayOS Thursday Oct. 22 at 4 p.m. Eastern as part of the Worldwide Supply Chain Federation's upcoming webinar "Optimizing Port Drayage with Technology" — follow that link for details.