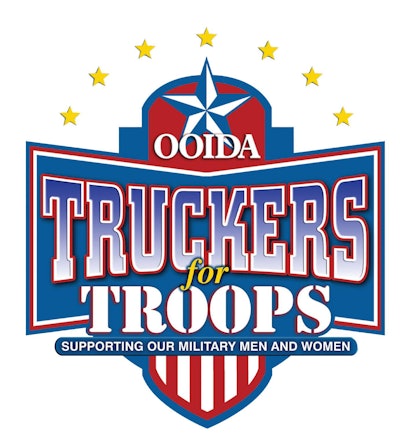 Trucking news and briefs for Wednesday, Oct. 21, 2020:
OOIDA's Truckers for Troops campaign kicks off Nov. 9
The Owner-Operator Independent Drivers Association's annual Truckers for Troops care package campaign is scheduled for the week of Nov. 9-16, corresponding with Veterans Day.
OOIDA has held the fundraising campaign since 2007, which is dedicated to sending care packages to military personnel stationed in combat zones. Truckers for Troops also helps a variety of veterans facilities in the U.S., including those assisting or housing wounded, disabled or homeless service members.
Beginning this year, the program will also benefit the Veterans Community Project, which provides houses for homeless vets through a community of "tiny houses." VCP also provides comprehensive services such as navigating the Veterans Administration and its benefits, identification services, mental and physical health referrals and financial counseling. Veterans can also receive hygiene kits and access to a food pantry, all free of charge.
During Truckers for Troops week, truckers can join OOIDA or renew their membership for $35, with 10% of that money going toward care packages. OOIDA matches the 10% dollar for dollar. Individual tax-deductible contributions to the Truckers for Troops fund are also welcome and can be paid to the OOIDA Foundation, a 501(c)(3) nonprofit corporation. To contribute or join or renew, truckers can call OOIDA's main number, 800-444-5791. Phones will be answered by operators, and the switchboards will stay open until 7:30 p.m. Central time.
During the past 13 years, the Truckers for Troops effort has raised more than $667,500, allowing the OOIDA to send care packages to more than 39,000 military personnel.
OOIDA is currently seeking addresses for sending packages and is also accepting personal cards or letters to include inside the packages. Anyone who has a family member or friend serving in a combat zone with the U.S. military, and who would like for them to get a care package, can send the name and complete address to troops@ooida.com and be sure to include projected stateside return date. The group is also looking for veterans' facilities with unmet needs.
South Florida moving company and owner fined for deceptive practices
A South Florida district court ordered Itai Carmel and his company, Ocean Moving & Storage, to pay $175,000 in civil penalties and restitution and $100,000 in legal fees and costs for deceptive moving practices. According to the Department of Transportation Office of Inspector General, there were 19 household goods moving companies or affiliated entities involved in the case.
OIG says the companies, including Carmel and his company, "deliberately loaded people's belongings onto trucks, then raised prices and forced customers to pay before releasing the items."
The companies also allegedly used false or deceptive advertising to persuade customers to purchase their moving services and claimed that highly trained professional or expert movers would do the work. However, OIG says, untrained laborers regularly performed the moves, often causing damage to, destroying or stealing the customers' property.