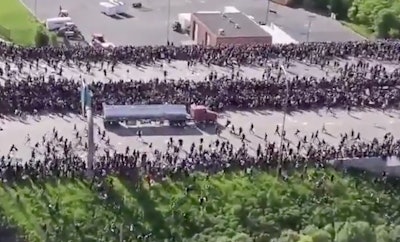 Trucking news & briefs for Thursday, Oct. 22, 2020:
Trucker who drove into crowd of protesters charged with felony, misdemeanor
The driver of a tanker truck that drove into a large crowd of protesters in Minneapolis in May is now being charged with two crimes – a felony count of threats of violence and a gross misdemeanor count of criminal vehicular operation.
On May 31, Bogdan Vechirko drove his truck into a crowd of protesters on I-35W, where he was then pulled out of his truck and beaten before bystanders stepped in to help. No protesters were seriously injured in the incident. The section of I-35 where Vechirko encountered the protesters had been closed, but he got to the area before state officials had a chance to barricade it.
At the time of the incident, Minnesota Public Safety Commissioner John Harrington said an ongoing investigation had not revealed any evidence to suggest that Vechirko intended to drive toward the crowd. He was released without charges.
Now, according to a criminal complaint, investigators reviewed traffic cameras and collected cell phone videos from witnesses that captured portions of the incident.
"The videos show that [Vechirko] did not stop his vehicle but continued into the area of the crowd at a high rate of speed," the complaint reads. "Various collected videos show that in addition to the large crowd, there were multiple vehicles stopped on I-35W northbound as the road approached the bridge and that a number of vehicles were driving the wrong direction up an entrance ramp to the freeway; all indicators that something was occurring up ahead."
The complaint adds that investigators also obtained a tractor-trailer to reenact the incident and found that Vechirko's line of sight "would have given him sufficient time to stop his truck after viewing the crowd."
According to the complaint, Vechirko admitted that "he was kind of in a hurry" and that when he saw the crowd, he hoped they would let him through if he drove slowly. He also told investigators he stopped when he saw someone fall and "acknowledged that he could have stopped the truck sooner," the complaint says.
"The thorough investigation showed that [Vechirko] wanted to scare the crowd out of his path," the allegations state.
Vechirko is not currently in custody, according to the complaint, and he will have his first court appearance on Nov. 10.
Diesel engineers closely examining cylinder deactivation strategies for fuel economy, emissions reduction
Diesel power engineers looking ahead to meeting 2027 and later greenhouse-gas emissions standards have been looking closely at cylinder deactivation (CDA) strategies, used today in gasoline engines principally as a means of improving fuel economy. CDA for big diesels could be a way to better manage exhaust-gas temperatures during conditions, such as idling, that tend to contribute in outsize ways to clogged diesel particulate filters and stress on the selective catalytic reduction systems over time. Results might be fewer, and shorter, active regens for DPFs, better fuel economy and more.
Eaton hosted yesterday, Oct. 21, a fourth in their "Ask the Experts" series of webinars aimed at discussing the research that has been conducted around CDA as a diesel-emissions strategy. The series has brought academics and researchers from Cummins, Southwest Research Institute, Purdue University and the Illinois university system, among others, to present various research outcomes that show efficacy for CDA to do what plenty are saying it will.
Purdue's Dr. Greg Shaver, part of the mechanical engineering faculty, delivered the keynote in the online session yesterday where he laid out CDA trials conducted using a Cummins six-cylinder engine running with all six cylinders firing, then in different scenarios with just three or two cylinders at a time. The unit was a standard 2010-emissions-spec engine utilizing selective catalytic reduction.
Some of the results, he said, were promising, particularly with regard to elevated temperatures and fuel economy at a steady 800-rpm idle. With three cylinders deactivated, the test engine could "achieve 200 degrees C [faster] and get 41% fuel savings" over standard six-cylinder idle, Shaver said. When researchers deactivated four cylinders under the same idle load, the engine got to higher temps of 260 degrees C.
There is a "fairly significant reduction in soot and NOx," or nitrogen oxides, Shaver said, when operating with three and two cylinders, respectively. "We reduce airflow through the engine" with CDA. "You're also putting less fuel through the engine for the same load."
Through the remainder of the presentation and a detailed Q&A, Shaver addressed CDA when tested at highway-cruise loads as well, questions about potential wear and tear/oil consumption and ways engineers might mitigate that long-term, and more.
You can access a recording of the webinar by registering for it via this link and following prompts as if it's still upcoming. You can access recordings of the first four below, plus a link to the final webinar in this series upcoming next week:
Engage the Experts: free webinars on commercial vehicle engine strategies
September 9: The truth about diesel CDA and NVH, featuring Tom Reinhart, Southwest Research Institute (SwRI)
September 30: Achieving 2027 emissions regulations, Chris Sharp, SwRI
October 14: The advantages of CDA over real-world drive cycles, Dr. Mrunal Joshi, Cummins
October 21: Understanding diesel cylinder deactivation, Dr. Greg Shaver, Purdue University
October 28: CDA versus cylinder cutout: a technology overview, Dr. Cody Allen, University of Illinois
NTEA cancels 2021 Work Truck Show
NTEA, the association representing the work truck industry, has announced it will not hold Work Truck Week in 2021 due to restrictions related to the ongoing COVID-19 pandemic.
"Doing what's right for the work truck industry is NTEA's number-one priority and commitment, which is why it was extremely hard — but ultimately necessary — to make this decision," the group said in a statement.
The group added that a virtual format wouldn't be adequate for Work Truck Week, but it is looking at opportunities for educational sessions.
NTEA said it has been working with its partners in Indianapolis for several months to find a solution, but "options for delivering a high-quality, productive in-person event are not possible."
The cancellation marks the first time in the Work Truck Show's 20-year history that it won't be held. NTEA said it is now focusing on how to best support its members and the work truck industry in 2021 while planning for 2022. Work Truck Week 2022 is scheduled for March 8–11, 2022, at the Indiana Convention Center in Indianapolis.
NASTC names 2020 Driver of the Year Team
The National Association of Small Trucking Companies announced its 2020 Driver of the Year Team, which consists of 19 truck drivers.
The association says the 19 drivers represent a total of more than 53 million accident-free miles with 594 cumulative years of experience.
The team members will be honored at NASTC's annual conference on Nov. 19-21 at the Omni Hotel in Nashville.
Members of the NASTC 2020 Driver of the Year Team are:
Brent Miller, Brent Miller Trucking
Deb LaBree, Castle Transport
Ron Hershberger, Cowen Truck Line
Dannel Weaver, D. Weaver Trucking
Daniel Herman, Gold Standard Transportation
Charlie Hood, Kisatchie Midnight Express
Ryan Marstiller, MOD Trucking
Jesse Wilbanks, Palindrome Express
James Tomey, Paul Watts Trucking
Doug Summers, Philip Sims Trucking
Donald Pinner, Pinners Trucking
Richard D. Simmons, Rogers Transport
Richard Seyfang, Seyfang Associates Corporation
Richard Rockwell, Spitale Co.
Vincent Strupp, Spoerl Trucking
Jim Tomlinson, Store and Haul
Ernest Fountain IV, Triple D Express
Cornelius Greene, Waletich Corporation
Timothy Prow, Xtreme Trucking