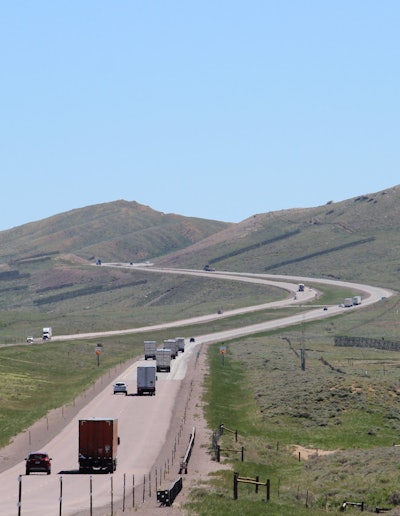 Trucking news and briefs for Friday, Oct. 23, 2020:
Wyoming begins I-80 parking expansion project
The Wyoming Department of Transportation is working to bring additional winter truck parking and other safety improvements to I-80.
WYDOT's I-80 Winter Freight project will bring nearly 100 new truck parking spaces to both the Fort Steele rest area about 7 miles east of Sinclair at milemarker 228 and the Quealy Done truck parking area 20 miles west of Laramie at milemarker 290, for almost 200 new spaces along the corridor.
"If weather conditions are poor or I-80 is closed, the new truck parking will provide additional options for truck drivers to park safely while they wait for conditions to improve," said Tim Morton, WYDOT District 1 construction engineer.
Additionally, WYDOT is installing truck climbing lanes on two miles of I-80 eastbound over Halleck Ridge (about 8 miles west of Elk Mountain between milemarker 250.5 and 252.5) and about two miles of I-80 westbound between Cooper Cove and Quealy Dome (milemarker 279.5-281.5).
"Climbing lanes help with traffic flow, especially on inclines with steep grades," Morton said. "They also help prevent secondary crashes when I-80 reopens after an extended road closure."
Work on the multi-year project will begin around the Fort Steele rest area, which closed along with nine others in June as a cost-saving measure. The department said facilities and parking will remain closed during the project and asked that drivers not park on the on- and off-ramps, as it could impede work in the area. The rest area will reopen once the project is complete.
WYDOT projects the project will be completed in October 2022.
Pilot raising money for Wreaths Across America, celebrating Veterans Day
Pilot Company is holding an in-store round-up fundraiser benefiting Wreaths Across America through the end of the year with funds raised supporting the group's goal to place more than 2.2 million wreaths in veterans' cemeteries across the country. Additionally, to honor veterans, Pilot will offer one free breakfast combo to military veterans from Nov. 9-15.
Through Dec. 31, PFJ customers can opt to round-up purchases to the nearest whole dollar and donate the additional amount to Wreaths Across America. Pilot is donating $20,000 and contributing $20,000 from the round-up campaign to support the Wreaths Across America ceremonies in Knoxville, Tennessee.
From Nov. 9-15, all veterans are invited to enjoy a free Pilot Coffee of any size and one free breakfast offering. The offer is available through the Pilot Flying J app and is redeemable at participating Pilot and Flying J travel centers.
Driver named Highway Angel for helping motorist escape burning vehicle
Jeffery Wills, a truck driver for Baylor Trucking, has been named a Highway Angel by the Truckload Carriers Association after helping pull a motorist from a burning vehicle.
Wills was on I-71 headed to Columbus, Ohio, from Louisville, Kentucky, on Aug. 5 when a car passed him on his left. He noticed the driver was on his phone, so he backed off a little bit as the car came up on another vehicle.
"When he looked back up [from his phone], he saw there was suddenly a car right in front of him. He hit the brakes and swerved to the right and then overcompensated and lost control," Wills said.
The car bounced off an embankment, then hit the side of a tractor-trailer and went back up the embankment and rolled over, ending up on its roof in the middle of the interstate blocking lanes.
Wills pulled over and stopped and ran over to the vehicle, which already had fire coming from the engine compartment.
"At first I was worried he might have kids in there," Wills said. "The rear window was knocked out and I saw him in there, tangled up and trying to get the seatbelt off. I asked him if anyone else was in the car and he said no, but I couldn't understand what else he was saying."
Wills went to the side of the car and kicked the passenger side window out so he could see if there was anyone else inside, but it was only the driver. He ran back around and helped the driver get out through the back window.
For his willingness to help, TCA presented Wills with a certificate, patch, lapel pin and truck decals. Baylor Trucking also received a certificate acknowledging their driver as a Highway Angel. EpicVue sponsors the TCA Highway Angel program.